Keelung student's ghosts win her prize in Hualien contest
A Keelung high-school student on Monday won the first prize in a ghost-drawing contest hosted by Hualien County's Fonglin Township (鳳林) as part of celebrations revolving around its annual Ghost Festival parade.
Chiu Yu-chieh (邱昱絜), from Er Xin High School, won the contest by combining ghosts with a wide variety of designs and facial expressions, the contest judges said.
The Ghost Festival, also known as Chungyuan Festival (中元節), falls on the 15th day of the seventh month of the lunar calendar. Traditional beliefs hold that spirits and ghosts enter the realm of the living for one month during Ghost Month.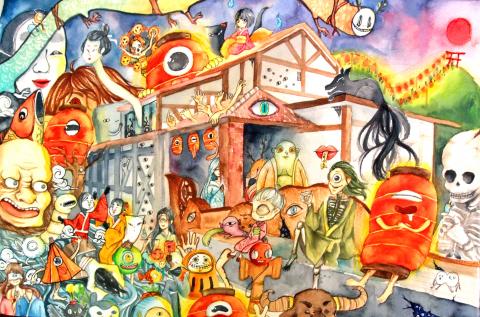 A wide variety of ghostly visages won Chiu Yu-chieh, a student at Keelung's Er Xin High School, first prize in a Hualien County competition.
Photo: Yu Chao-fu, Taipei Times
The organizers in Fonglin said they wanted to transform the annual Ghost Festival parade, a traditional religious procession, into a cultural and artistic happening through sponsoring the contest.
Potential contestants were instructed to be creative and not limit their entries to the vicious, demonic or hideous ghosts usually represented in traditional art.
Chiu, a third-year student in Er Xin's commercial design division, is no stranger to winning art and design competitions.
She has won first prizes in two other cartoon and manga-themed contests — the Taipei, New Taipei City and Keelung Regional Traffic Safety Cartoon Poster Design Competition and National Original Character Design Competition for New Artists.
Saying that school's philosophy emphasizes developing the potential of every student and that education should encourage individual talents, Er Xin principal Huang Ken-heng (黃艮珩) said that he never expected to see so many different faces on ghosts and that the talent of his students was humbling.
Comments will be moderated. Keep comments relevant to the article. Remarks containing abusive and obscene language, personal attacks of any kind or promotion will be removed and the user banned. Final decision will be at the discretion of the Taipei Times.