Tri-Service hospital celebrates release of eight fire victims
Tri-Service General Hospital on Monday held a party to celebrate the "rebirth" of patients badly burned in the Formosa Fun Coast (八仙海岸) fire on June 27, giving them a chance to share their ordeals over the past two months with reporters.
The hospital in Taipei's Neihu District (內湖) decided to hold the celebration on Monday as eight of the 61 burn victims it had treated since the disaster were being discharged that day.
A teary-eyed Kuo Hsiu-ming (郭修銘), a 23-year-old who suffered burns to 40 percent of his body, thanked hospital workers and his family and said that although he suffered great pain, he felt grateful to be leaving the hospital because other victims remain in critical condition.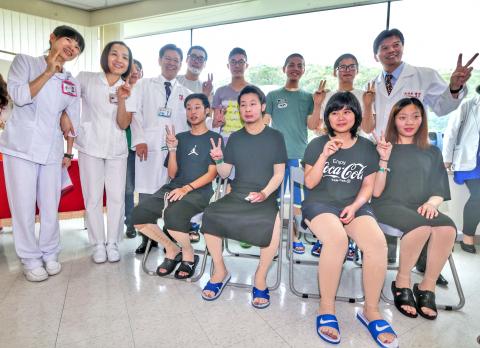 Eight victims of the June 27 Formosa Fun Coast fire attend a party, along with doctors and nursing staff at the Neihu branch of the Tri-Service General Hospital in Taipei, prior to being discharged from the hospital on Monday.
Photo: CNA
His 19-year-old brother, Kuo Ching-wei (郭晉瑋), who suffered burns to 10 percent of his body, said that his time in the hospital had not been difficult because the doctors and nurses had treated him like a friend.
Taipei Medical University student Cheng Chih-hsuan (鄭之瑄), who wore pressure bandages on both her legs, said that she had remained conscious after the fire and had been able to call her mother in Hualien County.
Cheng suffered burns over 25 percent of her body.
Kuo Chun-yu (郭俊佑), who is a navy volunteer, suffered burns to 34 percent of his body as well as an inhalation injury, and was completely clad in a pressure suit for the celebration.
Because Kuo Chun-yu has difficulty speaking, his mother expressed her gratitude and told reporters how touched she was when her son first stood up for two seconds during rehabilitation.
She said that going through therapy and rehabilitation is hard and painful, but encouraged other patients to remain positive to overcome their pain, believing that they would cherish life more than they did before the disaster.
Thirty-one of the fire victims at the hospital had been previously discharged or transferred to other hospitals, Tri-Service head of surgery Chen Shyi-gen (陳錫根) said.
Nearly 500 people were injured during an explosion and fire at a "Color Play Asia" event at the water park in New Taipei City's Bali District (八里).
Eleven people have since died of their injuries and 263 remained hospitalized, 105 in intensive care units and 75 in critical condition as of Thursday last week, the Ministry of Health and Welfare said in its latest update.
Comments will be moderated. Keep comments relevant to the article. Remarks containing abusive and obscene language, personal attacks of any kind or promotion will be removed and the user banned. Final decision will be at the discretion of the Taipei Times.