Oldest millet found in Tainan
DISCOVERY: Archeological digs near the science park have yielded valuable findings, including large quantities of 5,000-year-old grains and human skeletons
Archeologists announced earlier this week the discovery of 5,000-year-old grains — the oldest remains of locally grown cereals — at an excavation site near the Southern Taiwan Science Park in Tainan.
The National Museum of Prehistory is building a local branch near the site to display artifacts found in a score of excavation sites in and near the science park, with the museum expected to open to visitors next year, archeologists said.
Dug up alongside the grains are the oldest-known skeletal remains of deep-sea sharks eaten by people in Tainan, which show that the inhabitants possessed advanced knowledge of farming and fishing, said Tsan Cheng-hwa (臧振華), a research fellow at Academia Sinica and leader of the team of archeologists.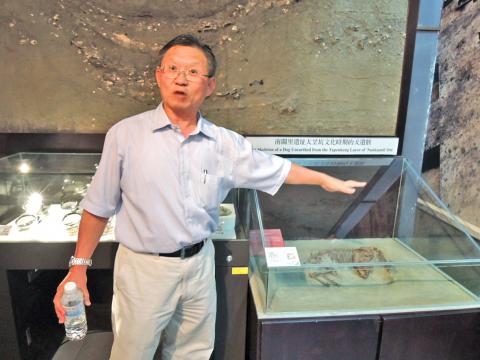 Academia Sinica researcher Li Kuang-ti speaks on Tuesday in Taipei about the oldest canine bones discovered around the Southern Taiwan Science Park in Tainan.
Photo: Tang Chia-ling, Taipei Times
Tsan said that the duration, effort and scale of the excavation around the science park, and the magnitude of its discoveries, made it the largest and most significant project in Taiwanese archeological history.
Over the past 15 years, archeologists have discovered 58 sites and saved 34, spanning an area of 90,000m2, as the area was being developed for the science park.
Tsan said the team has unearthed many valuable artifacts, including earthenware, bone and horn vessels, plant seeds, animal remains, tombs and more than 2,000 human skeletons.
The excavation sites around the science park date between 300 and 5,000 years ago, covering 10 archeological periods, including Dabenkan, Tahu and Siraya cultures, he said.
The most important find is 10,000 grains of millet, because it was the first time they had been discovered in a Taiwanese prehistoric settlement, he said.
Their quantity dwarfed even that of excavation sites in southern China, and easily surpassed that of the last recorded one in Taiwan — in Chihshanyen (芝山岩), Taipei, he said.
The Chihshanyen site yielded "only a handful" of grains, but "this time we have more than 10,000 grains," he said.
The presence of millet — a northern crop — in subtropical Taiwan poses interesting questions, such as how did it get to Taiwan, said Li Kuang-ti (李匡悌), another archeologist on the excavation team and research fellow at Academia Sinica.
Tsan said that the skeletal remains that the team discovered bore signs of cavities, osteophytes and brain tumors, as well as a high infant mortality rate.
He placed life expectancy for adults living in the settlements at 40 to 50 years.
Comments will be moderated. Keep comments relevant to the article. Remarks containing abusive and obscene language, personal attacks of any kind or promotion will be removed and the user banned. Final decision will be at the discretion of the Taipei Times.