German city to receive Taipei 101 cable sculpture
Taiwanese sculptor Kang Mu-xiang (康木祥) has donated his latest work — made from discarded steel cables — to Karlsruhe, Germany, as a gift to the city, which is celebrating its 300th anniversary this year.
Speaking about Taiwan Wishful at a news conference yesterday, the 55-year-old Kang said that he was pleased to play a part in promoting cultural diplomacy.
The sculpture, which took about six months to complete, is made from steel cables once used in Taipei 101's elevators, he said.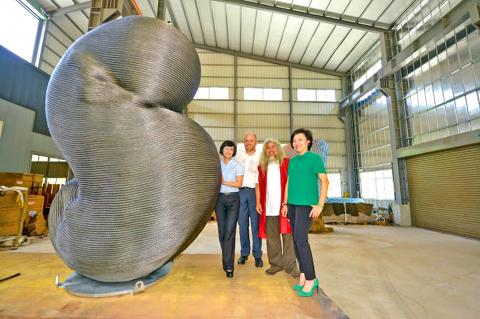 Taiwanese sculptor Kang Mu-xiang, second right, stands next to his work, Taiwan Wishful, in this undated photograph. The 3m tall sculpture is being given as a gift to Karlsruhe, Germany, to mark the city's 300th anniversary this year.
Photo: Courtesy of Kang Mu-xiang
In addition to offering birthday wishes to Karlsruhe, Kang said he wanted to use the project to convey the concept of the power of unity, symbolized by cables closely bound together in the piece.
Asked about the difficulties he faced in creating the sculpture, Kang said: "Every step in the project was a challenge."
He said he first had to clean the cables and suffered several minor burns while welding them.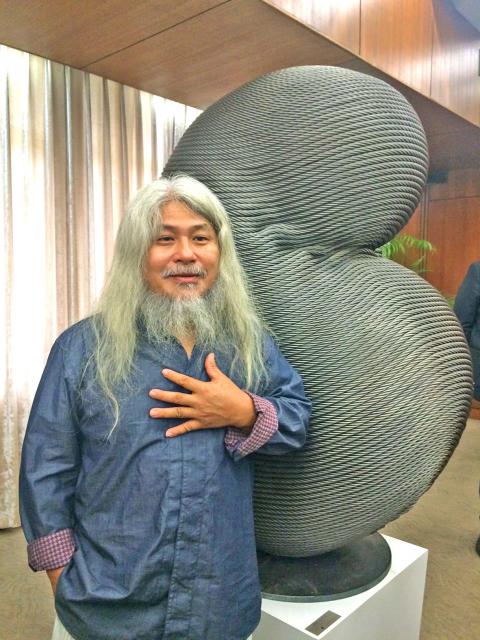 Taiwanese sculptor Kang Mu-xiang stands beside a scaled-down replica of his work Taiwan Wishful at a press conference in Taipei yesterday. The actual sculpture, made from discarded steel cables from Taipei 101, is to be sent as a gift to Karlsruhe, Germany, to mark its 300th anniversary this year.
Photo: CNA
"It was probably the most difficult project I've ever worked on," he said.
Taiwan Wishful, which stands 3m tall and weighs 3 tonnes, is Kang's second creation made from the skyscraper's discarded elevator cables. The first piece, Infinite Life, is installed outside the building.
Kang's previous sculptures used driftwood.
Kang started work on Taiwan Wishful after Vice Minister of Foreign Affairs Vanessa Shih (史亞平) invited him to create something that could serve as a gift from Taiwan to mark Karlsruhe's anniversary and promote ties between the two nations.
Shih told the news conference at the Ministry of Foreign Affairs that she thought Karlsruhe's anniversary would be a good opportunity to promote Taiwan's soft power, Shih said.
"Kang's project will be placed at a plaza in the center of Karlsruhe," Shih said.
German Institute in Taipei Director-General Martin Eberts told the news conference that he was grateful for the donation and lauded the close ties between Taiwan and Germany.
Kang is to travel to Karlsruhe to attend the sculpture's unveiling on Friday next week. Afterwards, he will travel to Berlin to promote cultural exchanges, the ministry said.
Comments will be moderated. Keep comments relevant to the article. Remarks containing abusive and obscene language, personal attacks of any kind or promotion will be removed and the user banned. Final decision will be at the discretion of the Taipei Times.