Water Park Inferno: Japanese doctors visit as hospitals struggle with load
Japanese physicians Shigeru Suganami and Yoshihito Ujike yesterday visited the Tri-Service General Hospital in Taipei to evaluate the needs of people injured during the Formosa Fun Coast (八仙海岸) incident and pledged medical aid as well as workers to help healthcare facilities across the nation, as they struggle to cope with the number of burns patients.
The incident at the park in New Taipei City's Bali District (八里) on Saturday last week saw nearly 500 injured when a series of fireballs, apparently caused by ignited powder sprayed over the crowd, engulfed young people at a dance event at about 8:30pm.
Association of Medical Doctors of Asia president Suganami said the pair's visit represented the mutual medical assistance between the two nations.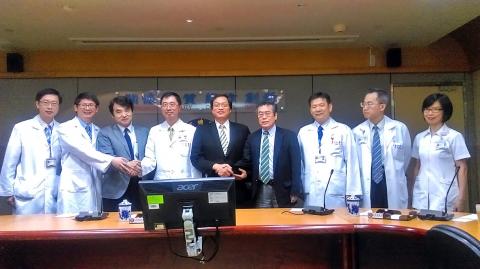 Japanese physicians Shigeru Suganami, third left, and Yoshihito Ujike, fourth right, shake hands with doctors at the Tri-service General Hospital in Taipei yesterday.
Photo: CNA
Caring for patients with burns is a long-term process and the potential fatigue of healthcare workers is a concern, Suganami said, adding that both sides should endeavor to step up interaction and mutual support.
The Japanese medical society has the utmost faith in Taiwan's standards of medical care, so when members on Sunday heard news of the explosion, we did not believe that Taiwan would need assistance, Suganami said, adding ,however, that the two doctors made the trip regardless to see what assistance they could offer.
According to the Japanese Society of Intensive Care Medicine, skin transplants are basically the same in Taiwan and Japan, Ujike said, adding that while Japanese hospitals are experimenting with artificial skin capable of aiding tissue growth, it is best to use a patient's own skin to do grafts.
Comments will be moderated. Keep comments relevant to the article. Remarks containing abusive and obscene language, personal attacks of any kind or promotion will be removed and the user banned. Final decision will be at the discretion of the Taipei Times.