Soong mulls presidential run
TURNING GREEN: The PFP chairman said the party has stayed true to Sun Yat-sen's principles and followed Chiang Ching-kuo in safeguarding democracy in Taiwan
People First Party (PFP) Chairman James Soong (宋楚瑜) yesterday said he would consider running for president if he thinks the two major parties' policies have been "hijacked by fundamentalists."
The PFP held a press conference in Taipei to announce its five legislative candidates for the Jan. 16 elections. Three of the candidates are former Chinese Nationalist Party (KMT) legislators, including Chang Sho-wen (張碩文), who just withdrew from the KMT earlier this week.
Soong likened the KMT to an apothecary that "sells counterfeit medicine."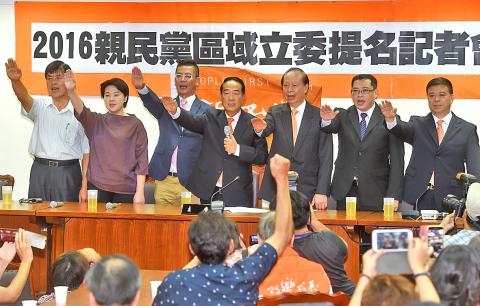 People First Party Chairman James Soong, center, yesterday cheers for the party's candidates for next year's legislative elections during a news conference in Taipei.
Photo: Chien Jung-fong, Taipei Times
"It is not that the PFP has turned 'green,'" Soong said, addressing criticism that the party has aligned itself with the Democratic Progressive Party (DPP). "It is that we can no longer say for sure whether the KMT is lan [藍, blue] or just lan [爛, rotten]."
The PFP has always been Sun Yat-sen's (孫逸仙) disciple and a resolute follower of former president Chiang Ching-kuo's (蔣經國) path in safeguarding the Constitution of the Republic of China and Taiwanese democracy, as well as pushing for cross-strait reconciliation, Soong said.
"The PFP is willing to stand by good KMT candidates, but if the KMT cannot break away from [President Ma Ying-jeou's (馬英九) inner circle], we have no other choice but to field our own," the chairman said.
When asked whether he would run for president, Soong said he would consider the possibility if the public calls for it, but added that it was not yet time to make a decision and he would continue to keep an eye on the KMT's and the DPP's policies.
Separately yesterday, KMT Legislator Cheng Ru-fen (鄭汝芬) of Changhua County said she would turn down the party's legislative nomination. She is the seventh KMT lawmaker who has decided not to run for another term.
Cheng's announcement came hours after KMT Legislator Chang Chia-chun (張嘉郡) voiced her misgivings about KMT presumptive presidential nominee Hung Hsiu-chu's (洪秀柱) cross-strait proposal of "one China, common interpretation" and threatened to withdraw from the party.
"Public opinion has changed after the nine-in-one elections in November last year. The KMT would be going against the tide of public opinion if it does not undertake reforms," Cheng said.
Hung, when asked about the show of disapproval from several KMT lawmakers, said she would work on improving communication with lawmakers.
Hung's spokesperson, Jack Yu (游梓翔), said that the deputy legislative speaker's team has been communicating with party comrades about her cross-strait policy.
He said that after talking to some party members, they "have grasped the content of the policy and believe that Hung's cross-strait policy reflects Taiwanese mainstream opinion."
The policy is a demand that "Beijing respect the existence of the Republic of China as a fact, based on the '1992 consensus,'" Yu said.
Comments will be moderated. Keep comments relevant to the article. Remarks containing abusive and obscene language, personal attacks of any kind or promotion will be removed and the user banned. Final decision will be at the discretion of the Taipei Times.