Students decorate school corridor with exam papers
A team of art students at Yong Kang Junior High School in Tainan recently wallpapered a corridor on campus using recycled examination papers, a work of public art that they said comments on standardized testing and the education system.
The team questioned the standardized testing system, saying: "Are there standard answers to all the problems in life?"
The installation was the team's expression of their thoughts about exams and study-related stress, they said.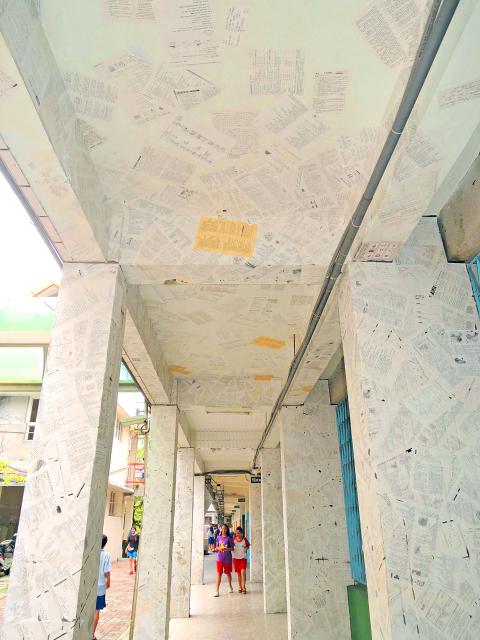 Students at Yong Kang Junior High School in Tainan walk along a walkway covered with recycled examination papers by the school's art students. The installation is designed to question Taiwan's standardized examination system and highlight the problem of exam-related stress.
Photo: Lin Meng-ting, Taipei Times
The team, consisting of Chuang Po-yu (莊博宇), Chen Yan-yu (陳彥宇), Wang Chien-chien (王千謙) and others, decided after a brainstorming session to create an installation on campus, drawing inspiration from a giant rubber duck sculpture — created by Dutch artist Florentijn Hofman — that toured major harbors in western Taiwan in 2013.
They chose to represent students' daily life by covering pillars and ceilings with test sheets, because students are burdened with study-related stress and have to fill in one examination paper after another, they said, adding: "Are there really correct answers to life that we can follow?"
"We did not expect that the school would agree [to our project], and we were surprised and grateful of the school's tolerance and support for us," they said.
To carry out the project, the team launched an exam paper recycling campaign and turned all kinds of test sheets and papers into wallpaper, they said.
The artwork struck a chord with fellow students and even faculty members, with both teachers and students appreciating the work.
Comments will be moderated. Keep comments relevant to the article. Remarks containing abusive and obscene language, personal attacks of any kind or promotion will be removed and the user banned. Final decision will be at the discretion of the Taipei Times.