Two World War II 'hero' veterans honored in US
Two retired air force pilots in their 90s — one from the Republic of China (ROC) and the other from the US — regaled guests at a dinner party last month at Twin Oaks Villa in Washington with stories of their combat action during World War II.
The party was hosted on May 19 by Representative to the US Shen Lyu-shun (沈呂巡) in honor of the two wartime heroes, Richard Cole and Chen Hung-chuan (陳鴻銓), a spokesman of the representative office said.
Cole, now 99, was the copilot who flew with General Jimmy Doolittle, commander of the 1942 Tokyo Raid.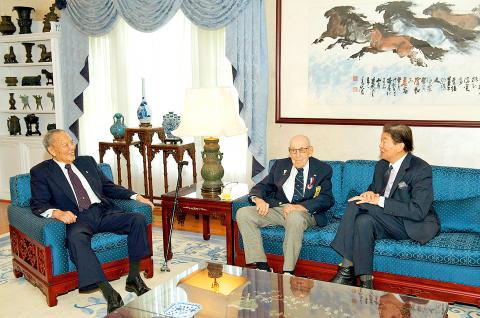 Representative to the US Shen Lyu-shun right, hosts a party at Twin Oaks Villa in Washington on May 19 with wartime heroes Richard Cole, center, and Chen Hung-chuan.
Photo: CNA
Cole said that the crew was rescued by Chinese civilians when the plane mistakenly landed behind enemy lines in an eastern coastal region of China after a bombing mission.
He said that he was grateful that the soldiers and civilians of the ROC had risked their lives to rescue the crew and help them reach Chongqing, the wartime capital of the ROC, where they were decorated by then-president Chiang Kai-shek.
One of the ROC administrative officials who organized the rescue mission was Juan Yi-cheng (阮毅成), Cole said.
At the party, the Taipei Representative Office helped place a telephone call to Juan's family, much to the delight of Cole and his daughter, although they were not able to speak with Juan himself because he had died two years before.
Chen, 95, who shot down two Japanese fighters in an air battle, said he was moved to see Cole speaking with Juan's family in San Francisco.
Comments will be moderated. Keep comments relevant to the article. Remarks containing abusive and obscene language, personal attacks of any kind or promotion will be removed and the user banned. Final decision will be at the discretion of the Taipei Times.