Guide dog ban was not policy, 7-Eleven says
7-Eleven, the nation's biggest convenience store chain, on Thursday said the manager of a store in Changhua County meant no offense when he insisted on barring two guide dogs from entry out of sanitary concerns.
The manager had overreacted, but meant no harm, the chain said.
The manager requested that the two dogs stay outside the store because customers had complained about allowing dogs in, the chain said.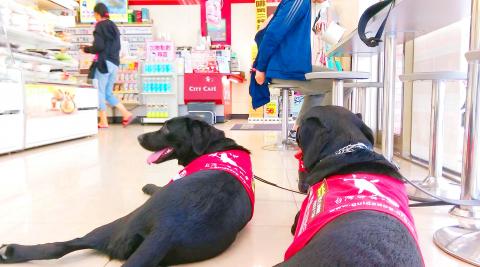 Two guide dogs lie on the floor in a convenience store in Changhua County on Thursday.
Photo copied by Tang Shih-ming, Taipei Times
The company promised to better train store personnel and said that it welcomed guide dogs into its convenience stores.
The statement came after a guide dog trainer surnamed Lai (賴) wrote on Facebook about his encounter on Wednesday, saying that the manager asked him to remove the two guide dogs he had brought into a 7-Eleven in Changhua on Tuesday.
The trainer said he brought the two dogs into the store to take a break after a training session.
According to the post, the manager made the request due to worries the dogs might contaminate the store and possible customer concerns about the food on sale with the dogs around.
The trainer said what he did was part of the training because visually impaired people might bring guide dogs into convenience stores.
The trainer said he had also stressed that the guide dogs were properly cleaned by their host families every day.
The post drew close to 3,000 comments, with most Internet users expressing support for the trainer and saying the manager should have not barred the dogs from entering.
Comments will be moderated. Keep comments relevant to the article. Remarks containing abusive and obscene language, personal attacks of any kind or promotion will be removed and the user banned. Final decision will be at the discretion of the Taipei Times.