TRA hoping to get Hello Kitty trains
TAIWANESE TOUCH: The railway operator said that it would like to incorporate Taiwanese themes into the carriages that are to be delivered by the end of this year
The Taiwan Railways Administration (TRA) is in the process of negotiating with Japan-based Sanrio Corp to use Hello Kitty on its Taroko Express trains in a bid to gain publicity and increase patronage, sources said.
The railway operator has tried before to get approval to use the iconic brand after EVA Airways Corp won permission in 2005 to put images of the feline character on its planes' hulls, interiors and accessories, sources said.
EVA said that since it received the rights to use the Hello Kitty images, 85 percent of its flights on planes bearing the brand have been full.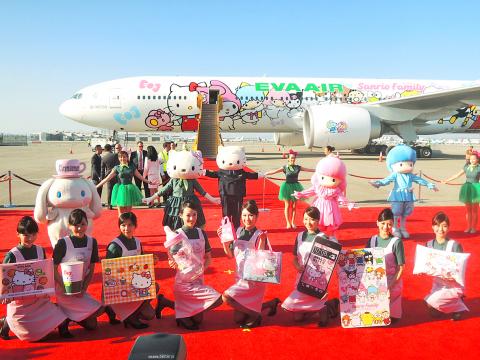 EVA Air flight attendants pose in front of a Hello Kitty-themed Boeing 777 at Los Angeles International Airport on Sept. 19, 2013.
Photo: Liu Li-jen, Taipei Times
With the TRA to receive two sets of both Puyuma Express and Taroko Express trains from Japanese manufacturers by the end of this year — an addition to a larger order — the operator said it is in talks with Sanrio to decorate one of the Taroko Express trains in Hello Kitty livery, the sources said.
The TRA has asked EVA Air to help consult with Sanrio due to the airline's success in negotiating use of the character, the sources said, adding that it had met with Sanrio at least three times.
The TRA has provided the interior schematics to the layout of the Taroko Express to Sanrio, which suggested using Hello Kitty imagery on seats, as well as logos in the trains and on LED displays, they said.
Sanrio also suggested redesigning trolleys used in the train and selling a Hello Kitty version of TRA lunchboxes, they said.
However, the TRA said it wants to incorporate some Taiwanese themes into the carriages, such as pictures of the National Palace Museum and Alishan (阿里山), adding that it is still in negotiations with Sanrio over the design concepts on accessories.
According to TRA officials, the agency concluded negotiations for 17 sets of Puyuma Express trains at a time when the yen was depreciating, which led to surplus funds that were used to purchase the four sets of trains to arrive this year.
This is an opportunity for the agency to improve its image, the officials said, adding that the railway operator hopes to announce draft plans for the venture in the middle of this month.
The potential success of the TRA's venture comes after Taiwan High Speed Rail Co had also been in talks with Sanrio regarding an agreement to use Hello Kitty, but the financially challenged company eventually dropped the idea because of the cost of royalty fees.
Comments will be moderated. Keep comments relevant to the article. Remarks containing abusive and obscene language, personal attacks of any kind or promotion will be removed and the user banned. Final decision will be at the discretion of the Taipei Times.