FDA releases tea findings
A herbal tea ingredient used by a Kaohsiung-based shop was found to contain pesticide residues at a level nearly 120 times the maximum permissible amount, the Food and Drug Administration (FDA) said yesterday.
Six products were added to the list of contaminated beverages in the latest round of random tests on hand-shaken drinks, bringing the total number of deficient products to 65 since the agency launched inspections earlier this month in the wake of a widespread pesticide scare.
Four products were sold in Kaohsiung, including a wedelia flower product used by a herbal tea store in the special municipality's Cianjhen District (前鎮) that were found to contain 6 parts per million (ppm) of hexaconazole, 120 times the legal level of 0.05ppm.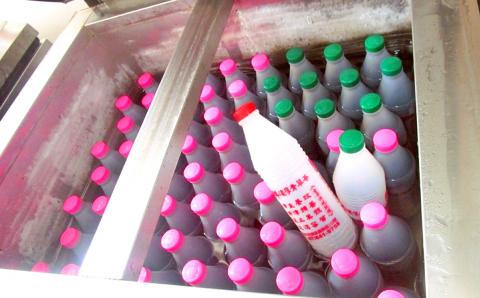 Bottles of herbal tea sit in a cooler in an undated photograph provided by the Kaohsiung City Government's Department of Health.
Photo courtesy of the Kaohsiung City Department of Health
White crane flowers at the same store were tainted with five pesticides at a high level, including chlorantraniliprole, flutolanil and tetramethrin, the agency said.
All contaminated products have been pulled off store shelves and their manufacturers are to be subjected to fines ranging from NT$30,000 to NT$3 million (US$977 to US$97,694) in accordance with the Act Governing Food Safety and Sanitation (食品安全衛生管理法).
As of 10am yesterday, the administration had tested 862 samples of tea beverage ingredients, with the results of 109 still pending.
Comments will be moderated. Keep comments relevant to the article. Remarks containing abusive and obscene language, personal attacks of any kind or promotion will be removed and the user banned. Final decision will be at the discretion of the Taipei Times.