Shih launches online signature campaign
Veteran political activist Shih Ming-te (施明德), who announced his presidential bid last week, yesterday launched a signature-collection app developed by his campaign team. While the legality of online signature collection might be challenged, as it has not been approved by the Central Election Committee, Shih said the move is not prohibited and is legal.
Shih would need at least 300,000 signatures to qualify as an independent presidential candidate. He launched his signature campaign yesterday, saying he would sue the committee if it raises questions to impede his effort.
Emphasizing that a legal expert said the collection campaign is workable, Shih said the committee had deliberately picked on young people who sought signatures to recall legislators, but he would not let the committee off the hook if it tries to block his campaign.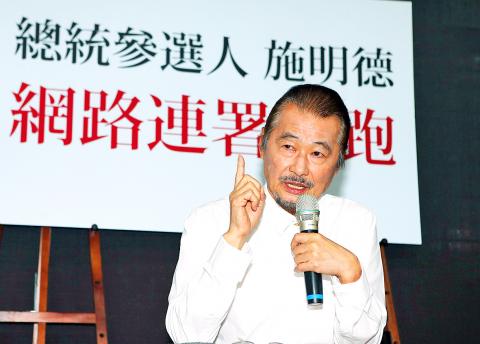 Veteran political activist Shih Ming-te speaks at the launch of his online signature collection app in Taipei yesterday.
Photo: CNA
Chen Chia-chun (陳嘉君), Shih's wife, said online collection is not prohibited by presidential election regulations and is therefore legal.
Committee Deputy Chairman Chen Wen-sheng (陳文生) said signature collection for independent presidential candidates must employ an official committee form displaying the names of the intended presidential and vice presidential candidates.
Also, signature collection must be on paper, the only medium in which signatures could be verified, Chen Wen-sheng added.
Whether online signature collection could be valid would be referred to a committee meeting for adjudication, he said.
However, a second committee official said Shih's campaign would probably run afoul of committee regulations.
Chen Wen-sheng did not respond to Shih's claims about potential legal action against the committee, saying that the agency would handle the issue in accordance with the law, while emphasizing that the collection form must carry the names of both the intended presidential and vice presidential candidates.
Appendectomy Project spokesperson Lin Zu-yi (林祖儀), also known as "Mr Lin from Taipei (台北林先生), said he supports online signature collection and accused the committee of deliberately burdening his advocacy group with restrictions at the height of its campaign to recall Chinese Nationalist Party (KMT) Legislator Alex Tsai (蔡正元).
Lin said the project was obligated to proceed with paper signature forms, but the method was highly inefficient as well as socially taxing.
The Appendectomy Project team would push for amendments to the Civil Servants Election And Recall Act (公職人員選舉罷免法) to "electronize" signature collection and recall procedures, he said.
In line with that stance, he would support online signature collection in the presidential election, Lin said, adding however that this does not entail his support for any particular presidential candidate.
Comments will be moderated. Keep comments relevant to the article. Remarks containing abusive and obscene language, personal attacks of any kind or promotion will be removed and the user banned. Final decision will be at the discretion of the Taipei Times.