Hung seeks time before KMT poll
Deputy Legislative Speaker Hung Hsiu-chu (洪秀柱), one of the two Chinese Nationalist Party (KMT) members who registered for the party's presidential primary, yesterday said that if she is the only contender to have passed the signature threshold, she should be allowed some time before a survey in which she is required to have at least 30 percent party support.
The KMT is to reveal tomorrow whether Hung and former minister of health Yaung Chi-liang (楊志良) have each obtained signatures from at least 15,000 registered party members.
Some political and media observers contend that Yaung might fail to reach the threshold, given the relatively small number of signatures he presented with his registration.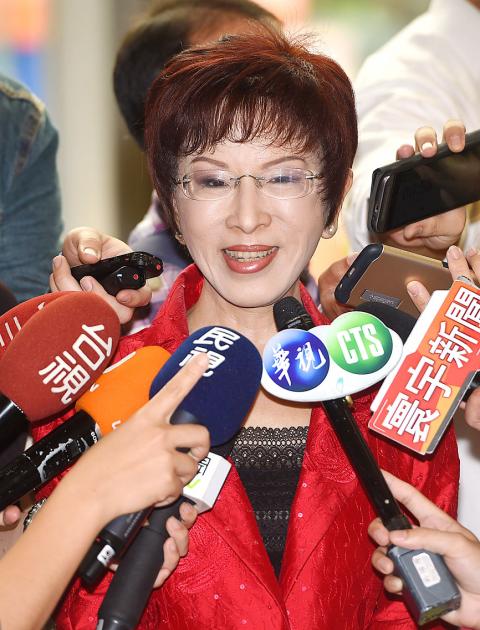 Deputy Legislative Speaker Hung Hsiu-chu speaks to reporters in Taipei yesterday.
Photo: Liao Chen-huei, Taipei Times
KMT presidential primary rules stipulate that if there is only one registered contender, the party's review committee has two options.
It can advise the party to immediately nominate the hopeful as the presidential candidate, or advise the party to resort to a so-called "brick-blocking" clause that would require the registered contender to secure at least 30 percent of support in a KMT poll against the opposition party's presidential candidate.
Yaung yesterday said that he would concede defeat if he failed to qualify.
Hung said that if she were the only registered contender, the poll should not take place immediately, but next month.
"It would be unfair for me if the poll were conducted right away. I had only 5 percent support in the very beginning, and after only a month or so, the figure has come to more than 20 percent," Hung said. "Give me more time and I might get 30 or 40 percent."
When asked whether the "brick-blocking" clause would be activated if there were only one contender, KMT Chairman Eric Chu (朱立倫) said such a decision would be up to the party's review committee.
"I will not make any comment on it," he said.
Comments will be moderated. Keep comments relevant to the article. Remarks containing abusive and obscene language, personal attacks of any kind or promotion will be removed and the user banned. Final decision will be at the discretion of the Taipei Times.