Education ministry 'lower than an amoeba': Ko
The Ministry of Education is a step below an "amoeba" for implementing plans for the national 12 year education plan in the face of public opposition, Taipei Mayor Ko Wen-je (柯文哲) said yesterday.
"Even an amoeba will change course if it is shocked," Ko said, adding that the ministry should not be less "evolved" than an amoeba in adapting to public opposition to its 12-year education plan, urging it to allow for legal changes.
Complicated admission formulas and a lesser role for standardized testing have made implementation of the ministry's plans controversial, resulting in a months-long standoff last year between the city government and the ministry.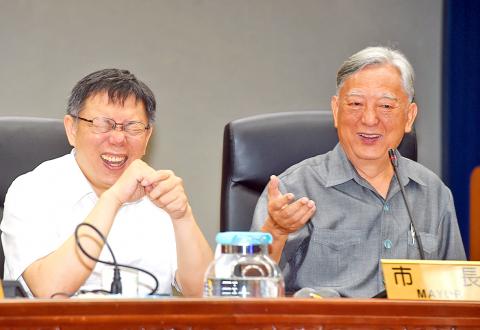 Taipei City Mayor Ko Wen-je, left, yesterday laughs during a meeting at Taipei City Hall as former mayor Huang Ta-chou, right, speaks.
Photo: Chien Jung-fong, Taipei Times
Ko on Monday called for "special admissions" to be allowed before "exam-free admissions" for the school district that encompasses Taipei, New Taipei City and Keelung, triggering renewed debate.
While "special admissions" for students with unique musical, athletic or professional skills already take place prior to "exam-free admissions," the Taipei Department of Education said it would like to allow "special admissions" for students with high scores on standardized tests in other subjects.
At present, admissions based wholly on test scores take place only after the "exam-free admissions" process is completed.
Minister of Education Wu Se-hwa (吳思華) has said the proposed change would violate the Senior Secondary Education Act (高級中等教育法).
The ministry also rejected Taipei's calls for the use of "rulers" in admissions formulas, which would increase the importance of standardized test scores.
"The ministry needs to hear the opinions of parents and children on 12-year education," Ko said.
"The Chinese Nationalist Party [KMT] should not forget that the 12-year compulsory education plan was a major reason they lost last year's [nine-in-one] elections," he said.
The Taipei Department of Education said its proposed changes had been suggested as part of efforts to persuade the ministry to give school districts more flexibility in determining their admissions plans.
The proposed changes would only require amending the administrative regulations governing high-school admissions, it said.
The admissions plans for the next year for the Taipei-New Taipei City-Keelung district high schools are to be announced by August.
Comments will be moderated. Keep comments relevant to the article. Remarks containing abusive and obscene language, personal attacks of any kind or promotion will be removed and the user banned. Final decision will be at the discretion of the Taipei Times.