Taiwanese claims Malko Competition victory in Denmark
Taiwanese conductor Chuang Tung-chieh (莊東杰) won first prize at the Malko Competition, the world's largest conductors' competition, in Denmark's capital, Copenhagen, on Friday.
The 32-year-old Chuang, who is studying at Musikhochschule Weimar, a widely reputed music school in Germany, took the top spot in the final round of the competition after beating two other finalists from Germany.
According to Taiwan's representative office in Denmark, 317 young conductors came from all over the world to compete in the event.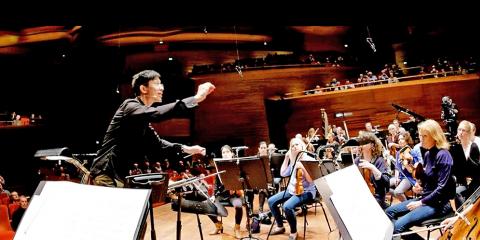 Taiwanese conductor Chuang Tung-chieh won first prize at the Malko Competition in Denmark's capital, Copenhagen, on Friday.
Photo: Screengrab from www.dr.dk
The jury selected 24 out of the 317 to compete in four rounds of competition, and Chuang and two German rivals — David Niemann and Jesko Sirvend — advanced to the finals.
In the final round, Chuang conducted a symphony orchestra to perform the first movement of Brahms' Symphony No. 1 in C minor, Op. 68, and a musical selection from Maskarade, a comic opera by Danish composer Carl August Nielsen, impressing the jury and winning the competition.
Chuang was awarded 20,000 euros (US$22,400). In addition, the Taiwanese conductor is to have jury president Sakari Oramo as his mentor for the next three years.
The victory has also secured Chuang engagements with 27 leading orchestras in Europe, including the Stockholm Philharmonic, the Oslo Philharmonic, the Munich Philharmonic and the Danish National Symphony Orchestra.
Chuang, one of only a few conductors from Asia participating in the competition, told Danmarks Radio that he believes he has something different to offer, because of his culture.
Chuang has worked with several symphony orchestras. Among them are the 12 cellists of the Berlin Philharmonic, the Bamberg Symphony Orchestra, the George Enescu Philharmonic Orchestra, Orchestre de Besancon, the Baltimore Symphony Orchestra, Taiwan's National Symphony Orchestra and the Taipei Symphony Orchestra.
Comments will be moderated. Keep comments relevant to the article. Remarks containing abusive and obscene language, personal attacks of any kind or promotion will be removed and the user banned. Final decision will be at the discretion of the Taipei Times.