Fight China's illegal dredging: DPP
LINE IN THE SAND: Law enforcement at sea retains 'room for improvement,' Coast Guard Administration Minister Wang Chung-yi told legislators yesterday in Taipei
Illegal mining of sea sand has been a serious problem off Kinmen, with Chinese dredgers regularly entering the nation's waters and taking almost 20,000 tonnes of sand over the past 10 years, Democratic Progressive Party (DPP) legislators said yesterday in Taipei, urging the government to block the activity, which they said could cause irreversible damage to Taiwan's coastline.
They made their remarks during a legislative Internal Administration Committee meeting in which the Mainland Affairs Council (MAC) and other agencies were asked to report on the Cross-Strait Joint Crime-Fighting and Judicial Mutual Assistance Agreement signed in 2009.
Chinese dredgers have been active in Kinmen's waters without facing sustained and compelling opposition from Taiwanese authorities, DPP Legislator Tuan Yi-kang (段宜康) said, citing a report by the Chinese-language CommonWealth Magazine published in July last year.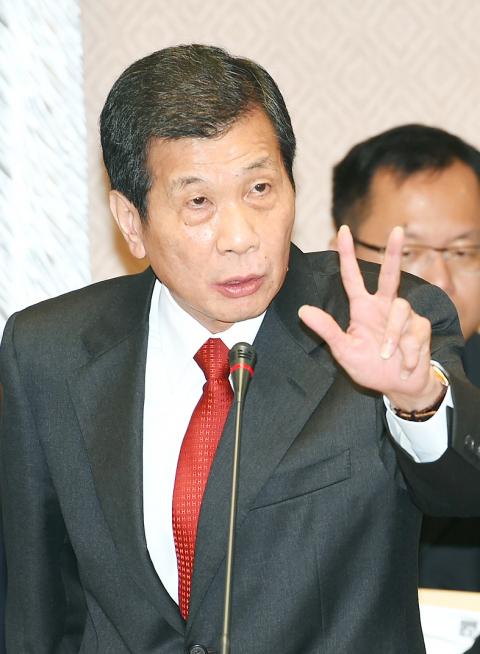 Coast Guard Administration Minister Wang Chung-yi holds up three fingers at a news conference in Taipei yesterday, counting the number of Chinese dredgers that have encroached into Taiwanese waters this year.
Photo: Chang Chia-ming, Taipei Times
Taiwanese authorities have addressed 45 cases of sea sand dredging — which is prohibited by both Taiwan and China in certain waters, including those around Kinmen — by Chinese boats in Kinmen's waters since 2005, Coast Guard Administration Minister Wang Chung-yi (王崇儀) said at the meeting.
"[An estimated] 12,703 cubic meters of sea sand had been illegally mined, which is close to 20,000 tonnes," Wang said. "There was only one case last year. And in 2013, while we had four, the Chinese authorities had cracked down 391 attempts of overstepped sea mining."
Wang said Chinese dredging boats were cunning enough to stay along the boundary line and would retreat to Chinese waters whenever Taiwanese Coast Guard vessels approached.
"They had then been detained by the Chinese marine surveillance fleets, which had waited there to capture the boats," Wang said.
"Only China's marine surveillance fleets are clever enough to wait for them near the maritime boundary and our coast guard is not?" DPP Legislator Chen Chi-mai (陳其邁) asked.
Wang acknowledged that there is "room for improvement" on law enforcement.
Tuan asked whether people on Taiwan's side of the Strait "collude with Chinese sea sand mining boats," which could explain why ending the practice has been so difficult.
"I am not sure about the bureaucrats or officials, but it is possible that private companies across the Strait have conspired to cash in on the illegal dredging," Wang said.
Tuan also took the government to task for calling on China's Fujian provincial government to "suspend its clampdown on [sand mining plants] along Jiulong River in Fujian Province because many Taiwanese businesses relied on them."
Ministry of Economic Affairs Bureau of Mines Director Chu Chao-ming (朱昭明), whose agency sent the request, said 80 percent of Taiwan's sand imports come from that location.
"It is truly bizarre for a government to request [illegal activities in another country]," Tuan said, adding that the request would in turn hurt the legitimacy of Taiwan's prohibition of sand mining at sea by Chinese boats.
When again questioned by Chen, Chu said that the sand handled by the plants was "river sand," and the Chinese government was "adjusting [the operations] along the Jiulong River."
MAC Minister Andrew Hsia (夏立言) said that the council would voice its concerns on this issue to its Chinese counterpart and that "the cross-strait relationship would be damaged if they choose to overlook the problem."
According to the CommonWealth report, citing a marine environment and engineering professor, every 100,000 cubic meters (145,000 tonnes) mined by Chinese dredging boats could cause land subsidence of 1m in the area within 1km from Kinmen's northern shore and a coastline retreat of 100m.
Comments will be moderated. Keep comments relevant to the article. Remarks containing abusive and obscene language, personal attacks of any kind or promotion will be removed and the user banned. Final decision will be at the discretion of the Taipei Times.