KMT votes for disciplinary review of Yao
Chinese Nationalist Party (KMT) lawmakers yesterday used their majority advantage to pass a motion to have Democratic Progressive Party (DPP) Legislator Pasuya Yao (姚文智) handed over to the legislature's Discipline Committee for allowing a representative of an activist group to sit in during a legislative committee hearing and "harass" a KMT legislator last week.
Representatives of Taiwan March, an activist group that has been pushing for the passage of amendments to the Referendum Act (公民投票法), sat in on a meeting of the legislature's Internal Administration Committee on Thursday last week to review the act. Their presence was sanctioned by Yao, the committee convener who presided over the meeting that day.
After the meeting adjourned, Taiwan March founder and Academia Sinica researcher Huang Kuo-chang (黃國昌) confronted KMT Legislator Chang Ching-chung (張慶忠), accusing him of spouting nonsense and obstructing the review of the Referendum Act, and calling him the "shame of the legislature."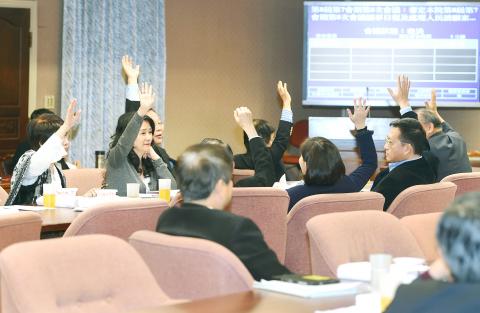 A group of legislators yesterday vote on a motion to have Democratic Progressive Party Legislator Pasuya Yao handed over to the legislature's Discipline Committee for allowing an activist group to sit in on last week's Internal Administration Committee hearing.
Photo: Liao Chen-huei, Taipei Times
The KMT caucus voted during a meeting of the Procedure Committee yesterday that Yao be subjected to disciplinary review, citing regulations barring public attendance in legislative committee meetings and for his failure to control the behavior of the activists.
DPP Legislator Tsai Huang-lang (蔡煌瑯) tried to dissuade his KMT colleagues from approving the move, saying Yao had called Chang after the meeting to express his disapproval over Huang's yelling at a lawmaker.
Tsai added that whether civic groups should be allowed to sit in on committee meetings could be further negotiated.
The KMT lawmakers rejected Tsai's suggestion, with KMT Legislator Lin Te-fu (林德福) saying that Yao's decision to open up the meeting to activist group members, who were "echoed and supported by a dozen more outside the building," posed a threat to "lawmakers and the dignity of the legislature."
Lin added that Legislative Speaker Wang Jin-pyng (王金平) had agreed that Yao should be subject to possible disciplinary measures by the Discipline Committee.
KMT Legislator Wu Yu-sheng (吳育昇) quoted DPP caucus whip Ker Chien-ming's (柯建銘) past remarks on legislative regulations barring civil groups from legislative committee meetings, adding that they would also create pressure on legislators.
"I left the meeting in the afternoon [on Thursday] when the committee was starting to review the act, because I was not willing to express my opinions under fear and pressure," Wu said.
The KMT lawmakers passed the motion, placing it on the agenda for Friday's legislative session. However, it is not likely to be dealt with soon, if ever, as it has been placed at close to the bottom of the day's agenda.
Comments will be moderated. Keep comments relevant to the article. Remarks containing abusive and obscene language, personal attacks of any kind or promotion will be removed and the user banned. Final decision will be at the discretion of the Taipei Times.