Legislators question premier over AIIB
'POSITIVELY REVIEWED': The premier defended the government's decision to apply for membership, as some lawmakers said it gave China a chance to humiliate Taiwan
Legislators across party lines yesterday questioned Premier Mao Chi-kuo (毛治國) about China's rejection of Taiwan's bid to be a founding member of the Asian Infrastructure Investment Bank (AIIB), as the premier insisted that the government's efforts were not entirely in vain.
China's Taiwan Affairs Office (TAO) on Monday confirmed that Taiwan's bid to become an AIIB founding member had been turned down. The Ministry of Finance then released a statement saying that the AIIB Multilateral Interim Secretariat affirmed that the rejection at this stage would not hinder Taiwan's future bid to become an ordinary member.
Mao reiterated that message during a question-and-answer session on the legislative floor yesterday, saying that the AIIB charter would be written in a way that would not obstruct Taiwan's participation as an ordinary member.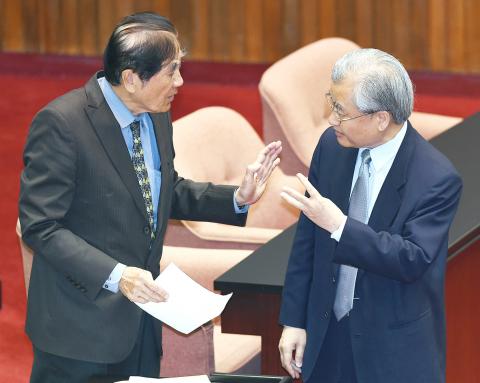 Premier Mao Chi-kuo, right, talks with Democratic Progressive Party Legislator Mark Chen during a question-and-answer session in the Legislative Yuan in Taipei yesterday.
Photo: Liao Chen-huei, Taipei Times
"We simulated different potential scenarios and concluded that if we had not submitted our application before March 31 [the deadline for applications for founding members], what has been said about Taiwan's participation not being obstructed might not be included in the future charter. We would then be relegated to the position of an observer, which is what we want to avoid," Mao said.
According to a Xinhua news agency report, TAO spokesperson Ma Xiaoguang (馬曉光) said that Taiwan's participation would be "positively reviewed" under "an appropriate name" when the involved parties formulate the AIIB charter.
Mao said the charter discussed and drafted by the first group of founding members "for the time being has no room for us [as a founding member]," when asked by Democratic Progressive Party (DPP) Legislator Yeh Yi-chin (葉宜津) why Taiwan could not be accepted as one.
He did not respond directly to DPP Legislator Chiu Chih-wei's (邱志偉) question of whether China was the cause of the rejection.
"Why is it that we had to give China the chance to slap us in the face? Neither the US nor Japan applied to be founding members. Should we not have sided with our allies?" Chiu asked.
For Taiwan to become a member, it would require a "special arrangement in the charter," Mao said.
"We do not have the same international status as the US and Japan do," he said.
Chiu also raised doubts about a proposal by New Taipei City Mayor and Chinese Nationalist Party (KMT) Chairman Eric Chu (朱立倫) for Taiwan to contribute NT$60 billion (US$1.92 billion) to the AIIB, asking about the source of capital and Mao's opinion about it.
"There would be a procedure in place before that happens," the premier said. "First we have to become a member, and the financial contribution would have to be overseen by the legislature."
As for the amount, Mao said that as the authorized capital for the AIIB is said to be US$100 billion and the paid-up capital US$10 billion, it would be possible for Taiwan to first contribute US$200 million to the bank.
KMT Legislator Huang Chao-shun (黃昭順) urged Mao to "lodge a complaint with the Chinese government" for saying that Taiwan is not a sovereign state when explaining why Taiwan could not be a founding member.
"We should not allow their nonsense in our attempt to join any international organization," Huang said.
Mao agreed, saying: "Taiwan is certainly an independent sovereign state."
When KMT Legislator Chi Kuo-tung (紀國棟) asked him about his opinion on former Straits Exchange Foundation chairman Chiang Pin-kung's (江丙坤) statement that Taiwan should not turn down the opportunity to join because of the name issue, Mao answered that the nation would join the AIIB under the name "Chinese Taipei" and that its participation is predicated on the conditions of being treated fairly and with dignity.
"We have the choice [to join or opt out]," Mao added.
Comments will be moderated. Keep comments relevant to the article. Remarks containing abusive and obscene language, personal attacks of any kind or promotion will be removed and the user banned. Final decision will be at the discretion of the Taipei Times.