Threatened spoonbills set winter population record
Taiwan became the black-faced spoonbill's most popular migrating site for the winter ending this year, with the species' record-high winter population numbering 3,259 birds, up nearly 20 percent from last winter, the Taipei-based Chinese Wild Bird Federation said, adding that about 62 percent of all black-faced spoonbills sheltered in the nation for the season.
A total of 2,034 birds were spotted in Taiwan in January, compared with 1,659 in January last year, the federation said.
Meanwhile, 411 birds were seen in Hong Kong and Shenzhen, China; 371 in Japan; and 330 elsewhere in China. Fewer than 100 birds were observed in other nations, the group said.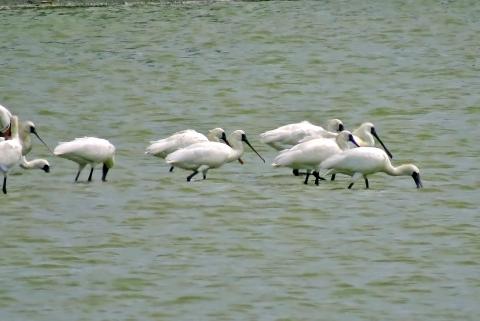 Black-faced spoonbills wade in a lake in Tainan on March 21.
Photo: Tsai Wen-chu, Taipei Times
Federation chairman Lin Shih-chung (林世忠) said that Taiwan's conservation efforts — a collaboration between the government and non-governmental groups — have proved successful and won international recognition.
Black-faced spoonbills have spread from their largest habitat in Tainan's Cigu Township to Chiayi County's Aogu Wetlands and Putai Township (布袋), and Kaohsiung's Cieding Wetlands, the federation said.
However, China, South Korea and Macau have seen population declines, with fewer birds seen in China for the second straight year, he said.
Black-faced spoonbills, endemic to East Asia, are confined to a few habitats, including Tainan and Hong Kong's Deep Bay, the society said.
Coastal development in China and South Korea affect the local ecology and threaten the rare species, the federation said, adding that just two birds were spotted in Wenzhou, China, this year, which used to host dozens of spoonbills.
He called on Chinese authorities to reduce development to preserve the habitats and food sources used by migratory birds.
The federation has participated in the International Black-Faced Spoonbill Census, coordinated by the Hong Kong Bird Watching Society, for several years, it said.
The census pools data from surveys in different countries to estimate the total population.
The data were collected in January, during the birds' seasonal migration to their winter habitats, the federation said, adding that birds spotted outside the data collection period were not listed in the final result.
Comments will be moderated. Keep comments relevant to the article. Remarks containing abusive and obscene language, personal attacks of any kind or promotion will be removed and the user banned. Final decision will be at the discretion of the Taipei Times.