Ko stars in concert dedicated to his promotion
100 DAYS IN OFFICE: KMT councilors described the concert as 'wasteful' and accused the city of forcing cable television operators to subsidize the event
A crowd thronged the square in front of Taipei City Hall yesterday for a controversial concert marking Taipei Mayor Ko Wen-je's (柯文哲) first 100 days in office.
The outdoor event, titled "Changing" (改變ing), featured a range of classical pieces performed by the Taipei Symphony Orchestra, accompanied by video footage of the city government's accomplishments.
Ko was the clear star of the event, musically introduced with the March of the Royal Lion from Camille Saint-Saens' Carnival of the Animals, in a reference to his description of himself as a "lion."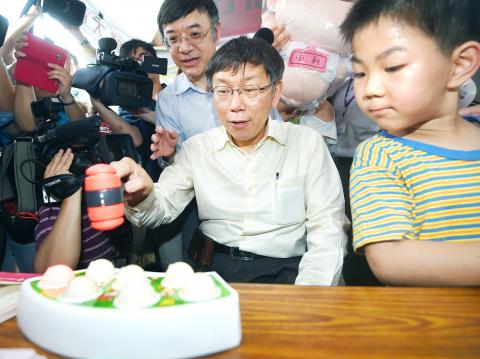 Taipei Mayor Ko Wen-je, center, takes part in a game at a city government event marking Children's Day in Taipei yesterday.
Photo: Fang Pin-chao, Taipei Times
The mayor repeatedly went onstage to "perform" for the crowd, even leading a performance of Buzz, Buzz, Buzz (嗡嗡嗡) — a children's song about busy bees that has been adopted as the unofficial anthem of his administration.
Ko also joined his commissioners for an onstage "horse-riding" dance (騎馬舞) — viewed by some onlookers as a dig at President Ma Ying-jeou (馬英九), whose family name is also the Chinese character for "horse."
At one point, Ko pretended to conduct the orchestra, flailing his arms roughly in time to the Radetzky March.
In brief remarks, Ko lauded the performance of his administration, which he said had restored the faith of city residents in the Taipei City Government.
He cited accomplishments such as the removal of a controversial bus lane along Zhongxiao W Road, the improvement of 226 illegal rooftop constructions and plans for urban renewal and affordable housing.
The concert has drawn criticism from Chinese Nationalist Party (KMT) Taipei City councilors as being unprecedented, wasteful and serving mainly to "flatter" Ko.
Taipei's Department of Information and Tourism responded that the city's expenditure for the event was minimal due to coordination with a "city government carnival" funded by cable television operators who provided the stage and equipment for the concert.
The councilors also accused the city government of abusing its power over cable operators, forcing them to subsidize the promotion of city policies.
Cable operators are required by the city to spend 1.5 percent of their revenues on public benefit activities. Fifteen city departments participated in the "city government carnival," peddling policies from plans for a "garden city" to "i-voting" to urban renewal plans.
Kbro Broadband news and program department manager Sabrina Li (李昀臻) said that while past events funded by cable companies have focused on entertainment rather than the promotion of city policies, the corporations viewed yesterday's arrangement as a "win-win" situation, because the city allowed corporations to set up their own promotion and sales booths at the event.
Comments will be moderated. Keep comments relevant to the article. Remarks containing abusive and obscene language, personal attacks of any kind or promotion will be removed and the user banned. Final decision will be at the discretion of the Taipei Times.