South Korean workers continue protest
'DISMISSAL IS MURDER': Protesters demanded a meeting with Yeung Foong Yu Group chairman Ho Shou-chuan, and demonstrated outside his house in Taipei
Union representatives from South Korea's Hydis Technologies, a subsidiary of Taiwanese e-paper manufacturer E Ink Holdings, yesterday held a rally in Taipei to protest E Ink's decision to cease operations in Icheon, South Korea.
Now on their second trip to Taiwan, the South Korean workers have staged a series of demonstrations over the past week, expressing stiff opposition toward E Ink's plans to dismiss more than 350 Hydis employees by the end of this month.
They said that it was against South Korean labor regulations for a profitable company to implement a mass layoff of its employees, adding that Hydis made more than NT$2.8 billion (US$89.81 million) last year from its patent royalties in fringe field switching — a key technology in the LCD electronics industry.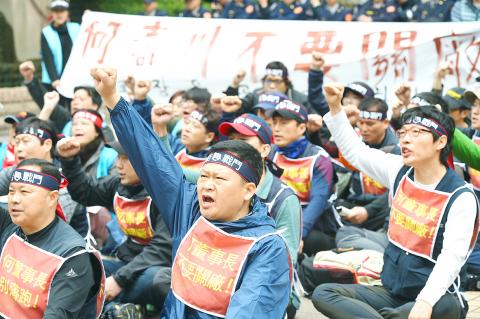 Workers from South Korean manufacturer Hydis protest outside the Ministry of Labor in Taipei on Tuesday. The workers have asked that the ministry intervene in E Ink Holdings Inc's decision to close its factories in Korea.
Photo: Chang Chia-ming, Taipei Times
Union representatives accused E Ink of following in the footsteps of China's BOE Technology, which was accused of industrial espionage during its ownership of Hydis from 2003 to 2006.
Despite rainy weather, dozens of activists from Taiwanese unions joined yesterday's demonstration to express solidarity with their South Korean counterparts.
The workers demanded a meeting with Ho Shou-chuan (何壽川), the chairman of Yeung Foong Yu Group — of which E Ink is an affiliate — after they failed to reach consensus with E Ink management during previous negotiations.
Wearing the all-white cleanroom suits that are usually worn by assembly line workers in the high-tech industry, the South Korean workers chanted slogans in Mandarin Chinese and Korean, demanding that Ho address their demands.
Halfway through the march, the workers staged a demonstration outside Ho's house, saying that Ho and other Yuen Foong Yu Group board members repeatedly ignored their demands to engage in negotiations.
Worker Lee Mi-ok, 30, said she has worked at Hydis for more than a decade, after she was forced to terminate her college studies to provide for her family.
"After my father passed away, the burden of my family's livelihood fell on my shoulders," she said through an interpreter. "My mother is a strong, resilient woman. When I think about her example, I tell myself that I need to stand firm, too."
Although E Ink said it provided favorable severance packages to the laid-off employees, the workers said that they were more interested in retaining their jobs.
"In South Korea we have a saying: 'Dismissal is murder,'" Hydis union leader Woo Boo-ki said through an interpreter, adding that both he and his wife relied on their jobs at Hydis for their income.
In a demonstration in front of the Yuen Foong Yu Group headquarters on Tuesday, Woo and Park Ju-mun, leader of a regional union organization in South Korea's Gyeonggi Province, had their heads shaved to protest against the shutdowns.
Chung Fu-chi (鍾馥吉), president of the employees' union of Bank Sinopac — also a Yuen Foong Yu Group affiliate — attended the rally to express his support for the South Korean workers, saying that union organizations should stand in unity regardless of nationality.
In a statement earlier this week, E Ink said its multiyear efforts to improve the financial conditions of the company have failed and accused union representatives of "spreading rumors."
Comments will be moderated. Keep comments relevant to the article. Remarks containing abusive and obscene language, personal attacks of any kind or promotion will be removed and the user banned. Final decision will be at the discretion of the Taipei Times.