HPA issues 'three highs' warning
With World Kidney Day on Thursday next week, the Health Promotion Administration (HPA) yesterday urged people with chronic kidney disease to keep close tabs on their "three highs" and refrain from smoking to spare themselves from the suffering of lifelong dialysis.
"Three highs — high blood pressure, high blood lipids and high blood sugar — are not only one of the primary causes of kidney disease, but could also further deteriorate a person's renal function and put the sufferer on the fast track to lifetime dependence on dialysis," Health Promotion Administration Director-General Chiou Shu-ti (邱淑媞) told a press conference in Taipei.
Chiou said research conducted by the administration in 2007 on people with the three highs found that nearly one in 10 adults suffers from chronic kidney disease.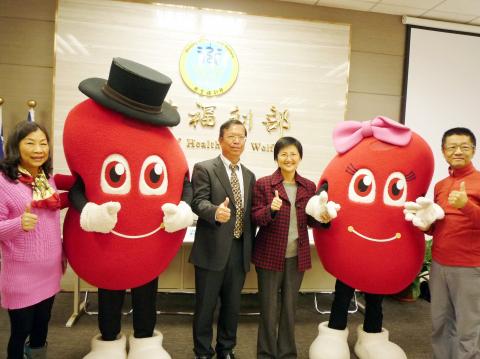 Health Promotion Administration Director-General Chiou Shu-ti, second right, reminds the public of the importance of kidney health in Taipei yesterday.
Photo: Wu Hsin-tien, Taipei Times
While it is common knowledge that the three highs can cause further kidney damage, Chiou said a 2013 survey carried out by the agency found that more than 53 percent of subjects with chronic kidney disease did not monitor their blood pressure, while 70.3 percent and 64.6 percent failed to monitor their blood sugar and cholesterol levels respectively.
"More alarming is that nearly 20 percent of individuals with chronic kidney disease still smoke on a daily basis, higher than the national smoking rate of 17.3 percent," Chiou said. "Research shows that smoking can lead to heart damage, renal impairment and proteinuria."
A 61-year-old woman surnamed Hsu (徐) said she had done nothing about her high blood pressure discovered in a physical checkup 13 years ago because it had not caused disturbing symptoms until she was diagnosed with kidney failure and put on dialysis two years later.
"Because of my condition, I had tried every folk remedy that I had heard of until they eventually led to me having a stroke last year. I only realized I had been doing this all wrong when my doctor told me that high blood pressure and high blood sugar level were detrimental to my kidneys and that the key to regaining kidney health lie in proper medication and careful management of my three highs," Hsu said.
Comments will be moderated. Keep comments relevant to the article. Remarks containing abusive and obscene language, personal attacks of any kind or promotion will be removed and the user banned. Final decision will be at the discretion of the Taipei Times.