Going all out despite medical limits
BEATING THE ODDS: National Chung Cheng University graduate student Sung Lei first set the longevity record for people with his condition when he turned nine
When Sung Lei (宋磊) was diagnosed with a rare congenital heart disease, doctors told his parents that he would not live past the age of five. However, he has defied their expectations, and at 25, has lived longer than anyone else in the world with the disease.
The graduate student at National Chung Cheng University's Institute of Strategic and International Affairs was born with type 4 persistent truncus arteriosus, which means that instead of having a pulmonary trunk and aorta, there is just one arterial trunk emerging from the heart that then branches.
He also has pulmonary vein obstruction, which has left him vulnerable to an irregular pulse and sudden cardiac arrest.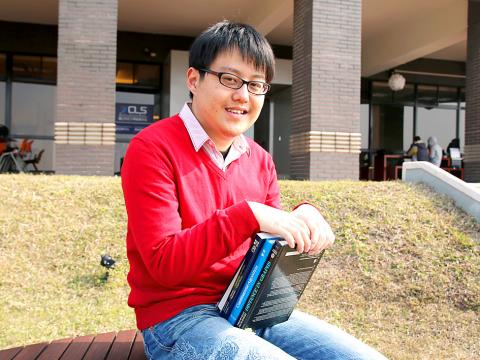 National Chung Cheng University graduate Sung Lei yesterday smiles in Chiayi County.
Photo: Yu Hsueh-lan, Taipei Times
Hsieh Kai-sheng (謝凱生), director of the pediatrics department at Kaohsiung Chang Gung Memorial Hospital, said Sung's condition is inoperable and even just walking 50m could leave him short of breath and in danger of dying.
"The survival rate for patients with the disease is extremely low. Sung set the record for the world's longest living person with type 4 persistent truncus arteriosus when he turned nine," Hsieh said.
Sung's mother said there were numerous incidents in which her son suddenly lost consciousness and she had to rush him to a hospital.
"There was one time my son came so close to death that his doctors told me to start planning his funeral arrangements. Fortunately, he was brought back from brink of death," she said.
Because his condition made his health precarious, studying has always been his favorite activity, because it is the only thing in life that he can control, Sung said.
"When I was in senior-high school, I suffered severe memory loss after a sudden stroke. Concerned about my health, the school strongly urged me to drop out, but I refused and insisted that I attend at least half a day," Sung said.
Sung said that he had wondered why he was sick, but he has found the answer in his faith.
"I realized that what really matters is not the length of your life, but its fullness," Sung said.
"If I could not attend the school's morning flag-raising ceremony with my classmates, I could still stay in the classroom and use the time to help my teacher grade homework. If I could not play basketball with my friends, I could still enjoy myself by acting as the referee."
Sung said he has also found meaning in life through volunteer work.
"I have made it my mission to live my life, however long it will be, to the fullest," he said.
Comments will be moderated. Keep comments relevant to the article. Remarks containing abusive and obscene language, personal attacks of any kind or promotion will be removed and the user banned. Final decision will be at the discretion of the Taipei Times.