Ko says unmarried men, women equally a danger to security
The nation's large number of unmarried men and women is a national security crisis, Taipei Mayor Ko Wen-je (柯文哲) said yesterday, clarifying previous comments which appeared to assert that only unmarried women were a problem.
"Marriage generally occurs very late," Ko said, citing statistics from the Taipei City Government's Department of Civil Affairs that show 59 percent of men and 50 percent of woman between 30 and 34 years of age have never been married.
"Marriage has already become a national problem because if these people remain unmarried, when they grow older they will become a major burden on social services," he said.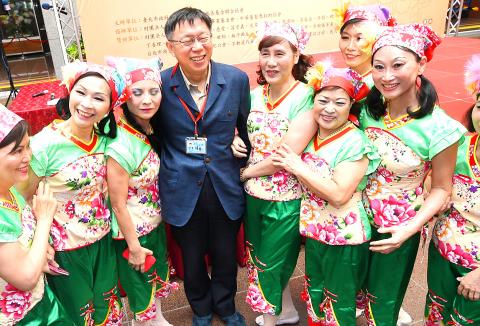 Taipei Mayor Ko Wen-je, third left, yesterday smiles as he poses with volunteers in the city working for a program that delivers meals to elderly people living on their own over the Lunar New Year holiday.
Photo: Chang Chia-ming, Taipei Times
Ko said his awareness of the problem arose during his tenure at National Taiwan University hospital when he discovered that many elderly people did not have a relative who could sign a letter of consent for medical procedures.
"The family is the most basic unit of social welfare," Ko said. "If there are too many people in a society who do not marry, their social welfare ends up becoming the responsibility of the government."
Ko added that it was important for the government to begin preparing to shoulder the burden because the present social welfare system is ill-prepared to handle the challenge.
Ko made his remarks at a news conference held to clarify comments he made earlier yesterday which appeared to call unmarried women a "national security problem."
"Men and women both have a problem when it comes to marriage," he said.
His earlier comments on the "national security problem" of low marriage rates only mentioned unmarried women. In response to media inquiries, he said that the number of unmarried women was far higher than the number of unmarried men, appearing to refer to the large number of Taiwanese men who marry women from overseas.
Ko said raising marriage and birth rates would require providing young people with conditions in which they felt comfortable marrying and having children.
When asked how he viewed the Taipei City Government's policy of providing subsidies to parents of newborn infants, he said that relieving the high cost of education and childcare was more important than cash payments for giving birth, adding that the the city government would take the costs into consideration as it drafts the "2050 Taipei" plan for city development.
Meanwhile, the Awakening Foundation yesterday released a statement protesting Ko's comments, calling them the latest in a series of bigoted statements about women on his part.
While Ko devalued women by claiming that unmarried woman were a "national security crisis," the real national security crisis was the lack of gender awareness by politicians like Ko, the foundation said.
Additional reporting by Chen Ping-hung
Comments will be moderated. Keep comments relevant to the article. Remarks containing abusive and obscene language, personal attacks of any kind or promotion will be removed and the user banned. Final decision will be at the discretion of the Taipei Times.