PRISON DRAMA: 'Badass' convict had long rap sheet
Following Wednesday's failed jailbreak attempt at Kaohsiung Prison, questions have been raised about the background of Cheng Li-te (鄭立德), the purported ringleader of the escape attempt who ended the 14-hour-long hostage standoff by shooting himself.
Cheng, 45, was a member of the Bamboo Union (竹聯幫) triad with a long criminal record. He was arrested in August 2012 in Kaohsiung and was serving a 28-and-a-half-year prison term for multiple offenses including abetting murder and illegal weapons possession.
A man who said he knew Cheng for more than 25 years and gave his surname as Chen (陳) said Cheng had married twice and had three children, the eldest of whom is 20 years old and the youngest five.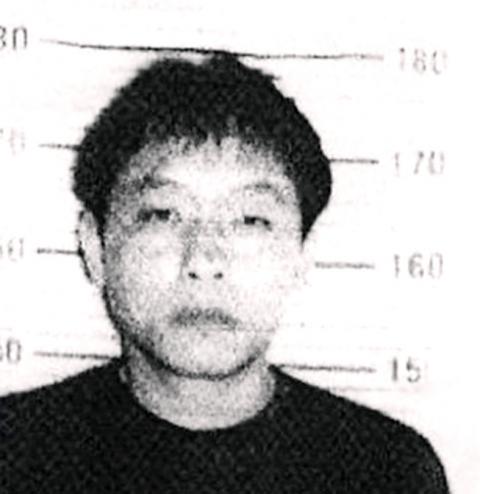 Kaohsiung Prison inmate Cheng Li-te is pictured in an undated photograph.
Photo: CNA
"Cheng and I were not very close, but I had always admired him for his courage to take responsibility for whatever he did," Chen said.
Chen said one of the charges against Cheng was false, saying that Cheng was not guilty of abetting a murder five years ago.
Cheng was convicted of the crime and sentenced to 18 years in prison.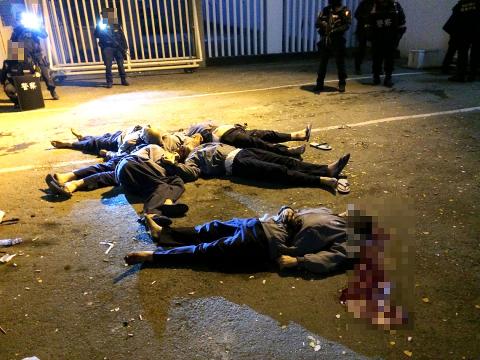 Police stand near the bodies of six inmates who committed suicide early yesterday after a standoff in Kaohsiung Prison.
Photo: Huang Chien-hua, Taipei Times
"Cheng was a fierce person. He would definitely admit to the crime if he truly was the one responsible for the murder. However, if someone fell down on the street and died, you cannot frame him," Chen said.
Elaborating on the incident, Chen said one of Cheng's underlings killed someone after drinking at the same table with Cheng. The man was sentenced to 16 years in prison, while Cheng was imprisoned for doing nothing, Chen said.
"Even after he was thrown behind bars, Cheng was indignant whenever someone brought up the matter," Chen added.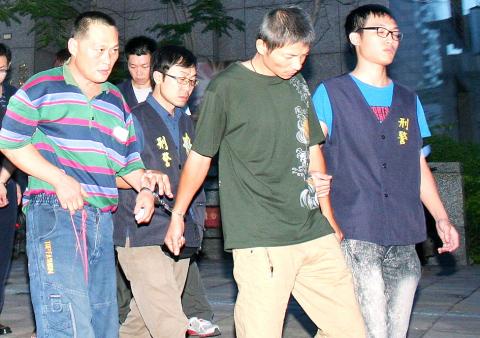 Chin Yi-ming, second right, is arrested on armed robbery charges in an undated photograph.
Photo: Fang Chih-hsien, Taipei Times
Chen also dismissed speculation that Cheng was the ringleader, saying that as Cheng's term was the second-shortest among the six would-be escapees, he had no reason to mastermind the action.
The other prisoners, who also committed suicide, were serving terms ranging from 25 years to life for burglary, drug possession and other offenses.
Pingtung County Police Bureau's First Investigation Platoon commander Shih Chia-hung (石加宏), who participated in Cheng's 2012 arrest, described the convict as a truculent gangster.
"At the time [of his arrest], Cheng had two handguns on him, but he did not draw them when we identified ourselves as police. However, he still fiercely resisted arrest and grappled with us," Shih said.
Cheng gave off a "strong badass vibe," Shih said.
Fearing an escape attempt, Shih never brought Cheng into the police station for questioning.
"Instead, we always questioned Cheng inside the detention center where he was being kept," he said.
Comments will be moderated. Keep comments relevant to the article. Remarks containing abusive and obscene language, personal attacks of any kind or promotion will be removed and the user banned. Final decision will be at the discretion of the Taipei Times.