Law on conservation of wetlands now in effect
'WISE USE': The Wetlands Conservation Act set aside areas for economic development, requiring developers to contribute to an environmental protection reserve
A new law to ensure the conservation of the nation's wetlands went into effect yesterday, the result of years of effort by environmental groups and government agencies.
Minister of the Interior Chen Wei-zen (陳威仁) said the newly enacted Wetlands Conservation Act (溼地保育法) was designed to protect wetlands and to establish regulations to manage economic activities within designated areas.
The law marked a break with traditional methods of wilderness conservation, as it allowed for certified local industries to continue through a system of certification and compensation measures, Chen said.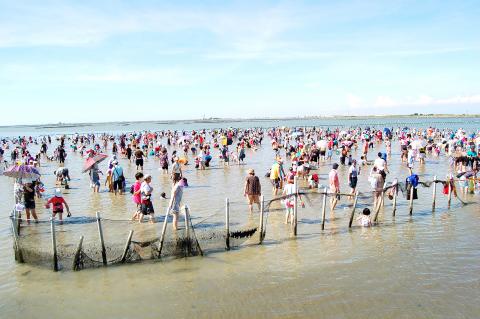 Visitors wade in the Cigu Lagoon in Tainan's Cigu Wetlands yesterday. Doubts have been raised as to whether the lagoon can continue to be used for recreation.
Photo: Yang Chin-cheng, Taipei Times
Local businesses in the agriculture, tourism and education sectors are to be encouraged to apply for certification through the ministry's Wetland Mark system, Chen said.
The ministry currently lists 85 wetlands in the nation as designated protected areas, classified by three levels — local, national and international.
In accordance with principles adopted from the Ramsar Convention, a global convention on the protection of wetlands developed in Iran in 1971, the act is to encourage the "wise use" of wetland resources — seeking sustainability without excluding local human activities.
The act establishes mechanisms that allow for economic development in wetlands by requiring developers who pursue business activities to contribute to an environmental protection fund.
In line with the convention's principle of "no net loss," developers in wetlands can also partake in off-site restoration efforts of wetlands in other locations.
National Parks Division Deputy Director Ou Cheng-hsing (歐正興) said that the act would involve joint efforts between national land-use planning agencies, adding that over 10 supporting laws have been established since the passage of the act in 2013.
He added that increased awareness of the importance of wetlands — often described as "nature's kidneys" due to their cleansing functions in ecosystems — have led to an increase in public participation at community events related to wetland conservation.
Efforts to initiate the landmark act of legislation were boosted in 2011 following two successful environmental movements against large-scale development projects — a proposed biotech research center in Taipei's Nangang District (南港) wetlands and plans for a petrochemical complex in Changhua County's Dacheng Wetlands (大城溼地).
The act received bipartisan support in the legislature, with lawmakers from both the pan-green and pan-blue camps enjoying a tour of Guandu Nature Park in Taipei yesterday to commemorate its enactment.
Comments will be moderated. Keep comments relevant to the article. Remarks containing abusive and obscene language, personal attacks of any kind or promotion will be removed and the user banned. Final decision will be at the discretion of the Taipei Times.