Nuclear plant aids annual bird count
COUNT ON MA-ANSHAN: Ma-anshan Nuclear Power Plant in Pingtung County surprised birdwatchers by allowing them access to study migratory species
Authorities approved the Chinese Wild Bird Federation's request to enter the premises of Pingtung County's Ma-anshan Nuclear Power Plant (馬鞍山) to better record birds rarely seen migrating through the Hengchun Peninsula (恆春半島).
The association, which hosts an annual New Year's Bird Count, included the Lungluantan Wetlands (龍鑾潭濕地) in Pingtung's Kenting Township (墾丁) this year. To get better views and a more accurate count of migratory bird populations, the group filed a request for access to the power plant's premises.
The event seeks to document all birds across the nation — both on Taiwan proper and its outlying islands — reflecting the general status of birds and their migrations during the winter.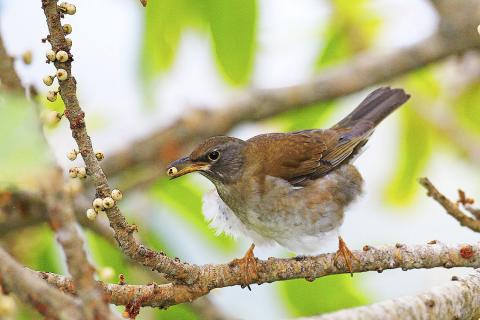 A pale thrush perches on a branch at the Ma-anshan Nuclear Power Plant in Pingtung County in an undated photograph.
Photo: Tsai Tsung-hsien, Taipei Times
The timing of the event, usually in early January, coincides with the largest winter migrations.
This year, the group targeted 140 locations for counting — including sites in Penghu, Kinmen and Lienchiang counties — covering nearly one-tenth of the nation's landmass.
Restricted military areas and other limited-access sites on migratory routes often yield surprising results, given the lack of human interference, a group member said, adding that the southern side of the Lungluantan Wetlands — the site of the Ma-anshan Nuclear Power Plant — was a good place to see migratory birds.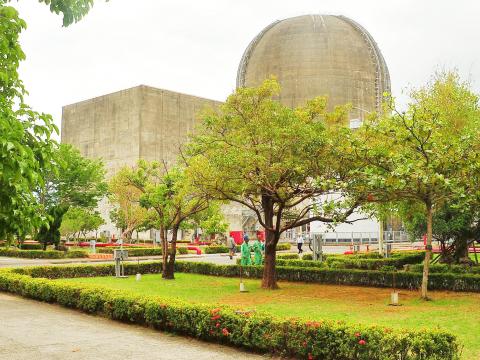 Engineers walk through a park at the Ma-anshan Nuclear Power Plant in Pingtung County on Friday last week.
Photo: Tsai Tsung-hsien, Taipei Times
The approval to enter the premises was unexpected, said Liu Chuan (劉川), a group member who is in charge of the Lungluantan birdwatching area.
The counters are to be accompanied by plant officials, Liu added.
Based on the unique nature of the site and the changing of the season from winter to spring, counters are likely to spot blue rock thrushes, pale thrushes, brown thrushes and shrikes in the area, Liu said.
The plant said that there has been no census or survey of natural life since its construction.
"We hope the activities and census of migratory birds will not interfere with the plant's normal activities of power generation," the plant said.
The plant added that it would not rule out making a joint publication with the association of wildlife on its grounds.
Lungluantan, west of Kenting National Park and between Provincial Highway No. 26 and Guanshan (關山), is the largest body of fresh water on the Hengchun Peninsula, covering to more than 175 hectares.
Aside from use for irrigation, the lake hosts many plants and animals, and is a frequent visiting spot for more than 200 bird species.
Comments will be moderated. Keep comments relevant to the article. Remarks containing abusive and obscene language, personal attacks of any kind or promotion will be removed and the user banned. Final decision will be at the discretion of the Taipei Times.