Foundation urges tighter measures against smoking
The John Tung Foundation yesterday urged the government to follow in South Korea's footsteps in bolstering anti-smoking measures, including stamping out smoking in bars and further raising prices of tobacco products.
Starting on Thursday, South Korea is to prohibit smoking in all bars, restaurants and cafes, and impose an 80 percent increase in cigarette prices.
"[South] Korea's failure to attach importance to anti-smoking policies while it pursued economic advancement in the past is one of the main causes of the relatively high smoking rate of 41.6 percent among its male citizens — one of the highest percentages among Organisation for Economic Co-operation and Development countries," John Tung Foundation chief executive officer Yao Shi-yuan (姚思遠) said.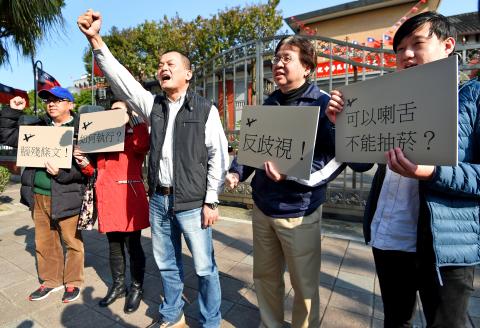 Members of the Taiwan Smokers' Rights Association demonstrate outside the Legislative Yuan in Taipei yesterday, protesting against proposed fines for drivers and motorcycle riders found smoking or eating while driving.
Photo: Lo Pei-der, Taipei Times
Yao said that South Korea has learned its lesson and is determined to reduce the smoking rate to 29 percent by 2020 — a goal it plans to reach through measures such as banning smoking in all public areas and drastically raising tobacco prices from 2,500 won to 4,500 won (US$2.28 to US$4.10) per pack on average.
Lin Ching-li (林清麗), head of the foundation's tobacco control division, said that Hong Kong used to have a high smoking rate similar to Taiwan's at about 30 percent, but the government's 2009 policies banning smoking in all indoor public areas, including bars and sauna parlors, and dramatically increasing cigarette prices from HK$10 to HK$50 (US$1.29 to US$6.44) per pack helped push down the ratio to 11.8 percent in 2012.
Yao said since Taiwan implemented a regulation requiring warning labels to cover 35 percent of cigarette packs in 2009, the number of countries that have adopted a similar policy has increased from about 30 to 77.
"Nevertheless, as a nation that prides itself on its tobacco prevention achievements, it ranks fourth from the bottom on the size of cigarette warning labels worldwide," Yao said.
"In addition, people are still allowed to smoke at bars and semi-open spaces and the country has not increased the cigarette tax in 28 years," he said.
The foundation called on the government to increase the tax by NT$20 per pack, increase the size of warning labels to cover 80 percent of a cigarette pack, ban smoking completely in indoor public spaces and work environments, and bring electronic cigarettes under the control of the Tobacco Hazards Act (菸害防制法).
Comments will be moderated. Keep comments relevant to the article. Remarks containing abusive and obscene language, personal attacks of any kind or promotion will be removed and the user banned. Final decision will be at the discretion of the Taipei Times.