New mayors, commissioners sworn in
'LET'S GET TO WORK': Taipei Mayor Ko Wen-je vowed to make evidence-based decisions in the public's interest and also said officials should 'forget all that' bureaucracy
City mayors and and county commissioners elected to head 22 local governments in the Nov. 29 polls were sworn in yesterday.
New Taipei Mayor Ko Wen-je (柯文哲) — the first-ever independent mayor since Taipei was designated a special municipality in 1967 — vowed to make a change for the next generation.
Ko called on all the city government's employees to work with him, while promising that the city's residents would feel something different within 100 days of his inauguration.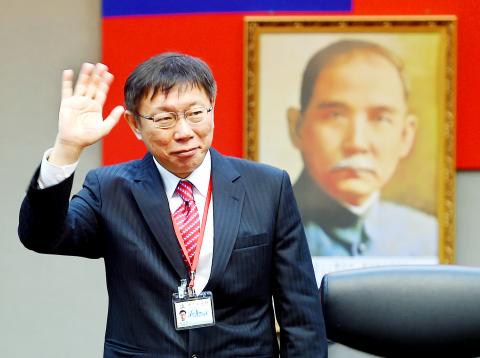 Taipei Mayor Ko Wen-je waves after his first meeting with his department heads yesterday.
Photo: Fang Pin-chao, Taipei Times
"During the 25 days between my election and inauguration, my team and I have worked hard to learn to take over all the city government's business," Ko said during his inaugural speech. "I've been a surgeon, and my leadership style is to face the problem, have evidence-based discussions and make efficient decisions to solve the problem in the easiest, yet most effective way."
"As long as it's good for the people of the city, I would like to urge all my colleagues at the city government to forget all that bureaucracy, just do as much as you can, and I will be a mayor to shoulder all the responsibilities," Ko added.
He said that he is not only eyeing the next four years of his term, but hopes to accomplish something that will fuel sustainable development of the city for the next 50 years.
"The present that we're changing will the future of the next generation," Ko said. "I would like to thank all the people of the city for trusting me and my team. The progress of Taipei will bring about development of Taiwan as a whole — we're getting to work now, let's work together."
After the inaugural ceremony, Ko escorted outgoing mayor Hau Lung-bin (郝龍斌) out of Taipei City Hall, and the two were greeted by hundreds of people — including supporters of both Hau and Ko, as well as city government employees — who crowded inside the lobby and outside the main entrance, waiting to welcome the new mayor and bid an emotional farewell to Hau.
Many city employees rushed to give bouquets of flowers to Hau.Some of them — including Hau — were in tears.
After attending the inaugural ceremony for city councilors, Ko returned to the city hall to sign personnel appointment orders and to preside over the inaugural ceremony of his own city government team.
When invited to deliver his remarks at the end of the ceremony, Ko only simply said: "So let's get to work now."
Although the remark triggered a round of laughter, Ko meant what he said, as he immediately asked Deputy Mayor Charles Lin (林欽榮) to call a meeting, and quickly made the decision to begin the work to demolish the exclusive bus lanes on Zhongxiao W Road in front of Taipei Railroad Station.
While walking from the city hall to the city council, Ko asked Xinyi Police Precinct Chief Lee Teh-wei (李德威), who escorted him, to better protect the Falun Gong practitioners who regularly demonstrate outside Taipei 101.
"If any Falun Gong practitioner is beaten again, I will fire you," Ko told Lee.
Ko had promised that he would strive to protect Falun Gong practitioners and fire the police precinct chief if necessary during an online meeting with netizens during the mayoral campaign, since members of the Concentric Patriotism Association of the Republic of China, an extremely nationalistic pro-unification organization, have often verbally or physically attacked Falun Gong practitioners outside the Taipei landmark.
In Chiayi City, Mayor Twu Shiing-jer (涂醒哲) said he hoped to lead Chiayi City to a better future by dint of democratic spirit and scientific methods.
Twu promised to turn Chiayi City into the leading city of Taiwanese democracy by offering residents participation in city government policymaking by holding local referendums every six months, adding that direct democracy would return the glory of the "city of democracy" to Chiayi.
In Greater Kaohsiung, the National Association for Firefighters' Rights, the Kaohsiung Teachers' Union, the People are the Boss and other student organizations protested against the Greater Kaohsiung Fire Department's suspension of firefighter Hsu Kuo-yao (徐國堯) at Kaohsiung Mayor Chen Chu's (陳菊) swearing-in ceremony yesterday.
Hsu was suspended with two greater demerits, six minor demerits and six warnings in September.
The fire department said Hsu was given two greater demerits for working a side job when on duty and for calling in sick when he was actually attending a class.
Hsinchu County Commissioner Chiu Ching-chun (邱鏡淳), beginning his second term in office yesterday, made a high-profile entrance to the ceremony.
Chiu said the election was one of the hardest-fought of his career, adding that being able to continue his second term in office was significant to him personally.
Meanwhile, Cheng Wen-tsan (鄭文燦) became the first mayor of Greater Taoyuan as the county was upgraded to special municipality status yesterday.
Cheng encouraged his administrative team to work hard to create a better future, adding that serving as the gate to Taiwan, Greater Taoyuan should seek to lead Taiwan's development.
Cheng expressed his thanks for his being elected into office and said it was the herald for the city and the beginning of the fulfillment of the "Taoyuan Dream."
Additional reporting by Hung Ting-hung, Huang Mei-chu, and CNA
Comments will be moderated. Keep comments relevant to the article. Remarks containing abusive and obscene language, personal attacks of any kind or promotion will be removed and the user banned. Final decision will be at the discretion of the Taipei Times.