Ex-toll collectors protest outside minister's home
About 40 former freeway toll collectors and their supporters yesterday demonstrated outside the residence of Minister of Transportation and Communications Yeh Kuang-shih (葉匡時) in Taipei yesterday.
The former toll collectors — some of the about 1,000 people who were laid off after the nation's freeways switched to an electronic toll collection system in January — said Yeh does not deserve his post as minister as he has failed to provide a solution for the former toll collectors.
Although former premier Jiang Yi-huah (江宜樺) resigned after the Chinese Nationalist Party's (KMT) landslide defeat in the Nov. 29 nine-in-one elections, most of the members of his Cabinet, including Yeh, remained at their posts, which led critics to question the government's resolve in implementing reforms.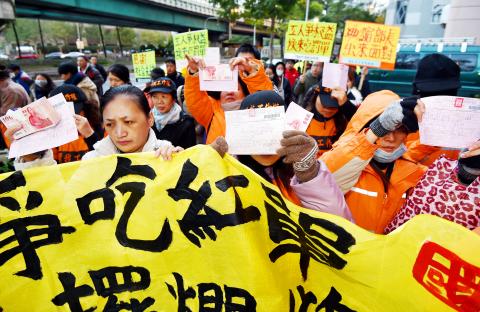 Former freeway toll collectors yesterday hold up tickets issued to them during previous demonstrations while staging a protest outside the Taipei residence of Minister of Transportation and Communications Yeh Kuang-shih.
Photo: Chien Jung-fong, Taipei Times
"In contrast with Yeh's continued employment as a high-ranking government official, the former toll collectors received NT$6,000 tickets apiece for supposed traffic violations," labor activist Kuo Kuan-chun (郭冠均) said, referring to earlier protests in which the toll collectors were fined for partially obstructing freeways.
Waving large orange and black flags as they lined up in front of the minister's home, an apartment complex in Taipei named "Shakespeare's Plaza," the toll collectors held bundles of NT$100 notes, which they said were donations from supporters to help them pay a total of more than NT$600,000 in traffic fines.
"We are very thankful for the more than NT$620,000 we received in donations to help us pay for the tickets," Former Toll Collectors Self-Help Organization vice president Huang Li-jung (黃麗蓉) said.
"Protesting outside the minister's residence is a last resort for us, since he refused to meet us during numerous protests outside the Ministry of Transportation and Communications," Huang added.
The former toll collectors reiterated their three demands: full severance packages according to their years of service instead of a fixed seven-month severance plan; compensation for their pensions; and assistance in finding new employment opportunities.
Comments will be moderated. Keep comments relevant to the article. Remarks containing abusive and obscene language, personal attacks of any kind or promotion will be removed and the user banned. Final decision will be at the discretion of the Taipei Times.