Jailed tycoon questioned in prison bribery probe
Prosecutors have listed former Eastern Multimedia Group chairman Gary Wang (王令麟) as a suspect in a prison warden bribery case, as the investigation yesterday resumed with the questioning of Wang and other principal figures tied to the scandal.
Wang, 59, serving a sentence of five years and six months for defrauding his former company and violating the Securities and Exchange Act (證券交易法), was summoned for questioning at the Taipei District Prosecutors' Office yesterday morning.
Wang was listed as a suspect by prosecutors in a bribery case that came to light last month, and was questioned regarding his involvement.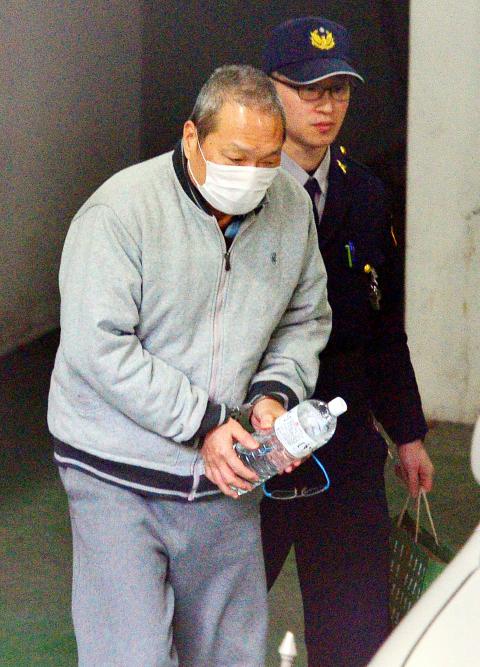 Former Eastern Multimedia Group chairman Gary Wang appears at the Taipei District Prosecutors' Office yesterday for his alleged involvement in a bribery case.
Photo: Wang Yi-sung, Taipei Times
Wang allegedly paid bribe money through intermediaries to wardens and other officials at Taipei Prison, where he has been incarcerated since November last year, in exchange for special privileges and access to mobile phones and other contraband items.
Under questioning, Wang said he did not pay bribes and also rejected charges that he received special privileges in prison, officials said.
Wang also said that he did not instruct Hu Hsiao-ching (胡曉菁), his personal secretary, to make arrangements for passing cash to prison officials.
In the afternoon session, former Yilan Prison warden Wu Tai-wei (吳載威) was questioned.
Wu was let go after questioning and left the prosecutors' office later in the afternoon; he refused to answer inquiries from waiting reporters.
Wu was among the top correctional facility officials rounded up by authorities during the initial phase of the investigation last month.
The others were Green Island Prison warden Su Ching-chun (蘇清俊), a former Taipei Prison deputy warden; Taichung Prison deputy warden Chao Chung-chih (趙崇智); and Taipei Prison management section director Chou Ping-jung (周秉榮).
During the first investigative phase, the prison officials were detained and questioned regarding their roles, under suspicion of receiving bribes and violating provisions in the Anti-Corruption Act (貪污治罪條例).
Law enforcement officials said that Wang allegedly paid bribes to corrections officials, who then allowed the imprisoned tycoon to act "like a big boss" while incarcerated, including using mobile phones for managing company operations, accessing a computer training room to conduct business meetings and being granted extra weekly visits from his associates.
Comments will be moderated. Keep comments relevant to the article. Remarks containing abusive and obscene language, personal attacks of any kind or promotion will be removed and the user banned. Final decision will be at the discretion of the Taipei Times.