Yuan Zai nominated for panda prize
The Taipei Zoo has been nominated in the Giant Panda Zoo Awards for the second year in a row, organizers of the online prize dedicated to giant panda conservation said.
Yuan Zai (圓仔), nominated for both "Panda Cub of the Year" and "Panda Personality of 2013: The Bear" and won the latter, has been shortlisted for an award again this year, according to Belgian panda enthusiast Jeroen Jacobs, who initiated the campaign in 2012.
This year, the young panda vies for "Panda Personality of 2014."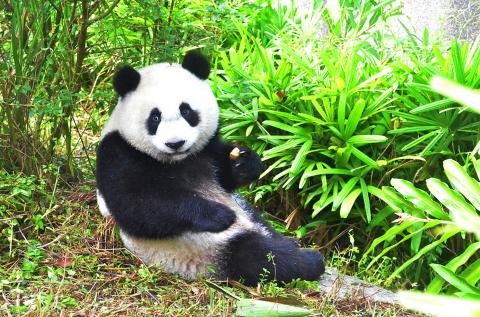 Panda cub Yuan Zai looks at photographers at the Taipei Zoo on Oct. 27. Yuan Zai has been nominated for this year's international "Panda Personality" award in an online competition.
Photo courtesy of Taipei Zoo
The now 50kg Yuan Zai has been wildly popular since her birth at the zoo in July last year to parents Tuan Tuan (團團) and Yuan Yuan (圓圓), who were a gift from China five years ago.
The other nominee for an award from Taiwan this year is Chen Yu-yen (陳玉燕), a worker at the Taipei Zoo who is in the running for "Human Panda Personality."
Among the awards' 10 categories, the "human" section was established to highlight individuals who are making a difference in panda conservation, Jacobs said.
Chen is to compete against four people from Belgium, China and Malaysia.
"I invite all panda fans around the world to support those who are working very hard in the field of panda conservation each day of the year by casting your vote," Jacobs said.
Voting is open on the Giant Panda Zoo Web site until Jan. 18.
About 240,000 ballots were cast during last year's competition.
Comments will be moderated. Keep comments relevant to the article. Remarks containing abusive and obscene language, personal attacks of any kind or promotion will be removed and the user banned. Final decision will be at the discretion of the Taipei Times.