Waste oil recyclers system finalized: EPA
PAYING THE PRICE: Firms that are found to be handing waste cooking oil to unlicensed recyclers will be fined between NT$1,200 and NT$6,000 under the new system next year
In a bid to prevent waste cooking oils from re-entering the food supply chain, the Environmental Protection Administration (EPA) said yesterday that it had finalized the certification system for waste cooking oil recyclers nationwide — known in Taiwan as "little bees" — due to come into effect on Monday.
Under the system, recyclers are required to provide work permits issued by local environmental protection agencies, and waste removal companies will also have to provide government-issued certifications on the vehicles used during recycling.
To help restaurants and food companies identify qualified recyclers, the work permit bears a quick response code (QR code) which, when scanned with a smartphone, would direct users to a Web page that contains information about the workers, including their photographs, affiliated company and its telephone number, and work permit number.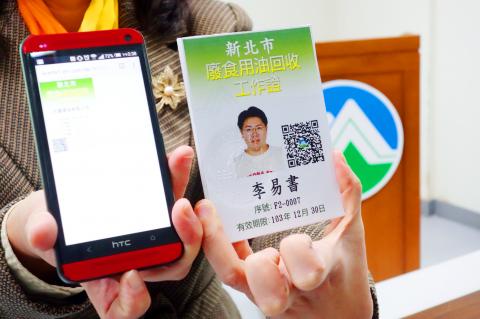 A woman at the Environmental Protection Administration in Taipei yesterday holds a sample of an official identity card that is being issued to waste cooking oil recyclers and bears a QR code that can be scanned using a smartphone camera.
Photo: Tsai Ying, Taipei Times
Another authentication mechanism for the permits includes a stamped watermark by environmental protection agencies.
EPA Department of Waste Management Interim Director-General Lai Ying-ying (賴瑩瑩) said to obtain a permit, unregistered recyclers can either become employees at qualified waste removal facilities, or set up a firm by themselves and have it registered by local authorities.
She said vehicle certification also helps people to distinguish qualified recyclers from unlicensed ones, because waste removal companies are managed through their vehicles. Unregistered vehicles would therefore indicate that those using them are likely illegal workers.
Businesses found handing waste cooking oil to unlicensed recyclers will be fined between NT$1,200 and NT$6,000 (US$38.5 and US$192.3) starting on Jan. 1, she said.
In light of recent food scares, the EPA in October proposed tightening regulations for businesses required to file the amount of waste oil recycled and its destinations online.
The amended regulations would require fast food or restaurant chains with more than NT$25 million in capital and companies making flour-based products with more than NT$2.5 million in capital to provide thedata on a monthly basis starting in February next year.
Records on the amount of oil recycled from smaller entities would be maintained by waste removal companies and uploaded to the EPA's system every month.
Lai said that as of Friday last week, local environmental protection agencies had received 383 applications from about 400 recyclers nationwide, posting an application rate of roughly 80 percent after repeated applications were excluded.
Comments will be moderated. Keep comments relevant to the article. Remarks containing abusive and obscene language, personal attacks of any kind or promotion will be removed and the user banned. Final decision will be at the discretion of the Taipei Times.