First Black Hawk choppers arrive
FIRST BATCH: The Sikorsky UH-60M helicopters are the first of an order of 60, of which the army will get 45. Six more deliveries are scheduled, stretching through to 2018
The army yesterday took delivery of the first batch of UH-60M Black Hawk helicopters from the US, as the aircraft were unloaded at the Port of Kaohsiung.
Military officials said that after flight testing, the four helicopters were flown to Army Aviation Special Forces Command in Greater Tainan, where the new fleet is to be based.
The four UH-60M Black Hawks are the first installment of a total of 60 ordered from the Sikorsky Aircraft Corp that are to arrive in seven batches.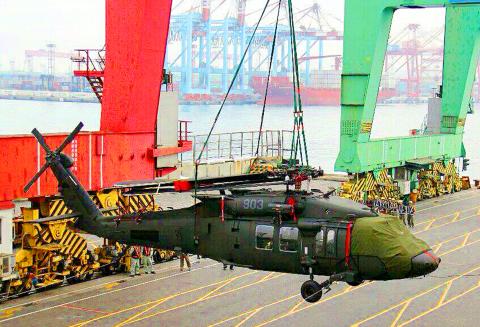 A Sikorsky UH-60M Black Hawk helicopter is unloaded yesterday after six of the choppers arrived at the Port of Kaohsiung in Greater Kaohsiung.
Photo: Courtesy of the Ministry of National Defense
Under negotiations for many years, the government's procurement of the 60 Sikorsky helicopters was finalized in a deal worth US$3.1 billion, part of a total US$6.4 billion arms purchase package by Taiwan that was announced by US President Barack Obama's administration in 2010.
It also included US$2.85 billion for 114 advanced Patriot air defense missiles, a pair of Osprey mine-hunting ships and advanced military communications systems.
Ministry of National Defense officials said 15 of the 60 Black Hawks have been allocated to the Ministry of the Interior's National Airborne Service for use in disaster relief and emergency operations, and will be in the last of the seven batches scheduled for delivery in 2018.
Defense experts say the fleet of 45 Black Hawks, once all are operational, will be a major upgrade in combat firepower because they are reportedly to be fitted with two M240 7.62mm machine guns, along with a Gau-19/A 12.7mm Gatlin machine gun capable of firing 2,000 rounds per minute.
Army Aviation Special Forces Command engineers and specialists got to work unloading and assembling the helicopters as soon as the aircraft arrived at Kaohsiung Harbor's No. 70 pier in the morning.
The assembly work was completed at about 3pm and pilots then conducted safety checks before the first Black Hawk lifted off at 5:30pm and headed to Greater Tainan.
The Black Hawks are to replace the military's aging fleet of Vietnam War-era UH-1H "Huey" choppers, which were manufactured by Bell Helicopter and Aerospace Industrial Development Corp (AIDC). Bell and AIDC coproduced 118 UH-1H Hueys between 1969 and 1976 for the Republic of China Army.
Connecticut-based Sikorsky says the UH-60M is an advanced four-blade, twin-engine helicopter that can operate in most extreme conditions and terrains.
Comments will be moderated. Keep comments relevant to the article. Remarks containing abusive and obscene language, personal attacks of any kind or promotion will be removed and the user banned. Final decision will be at the discretion of the Taipei Times.