Chef-creator of General Tso's Chicken honored
Chef Peng Chang-kuei (彭長貴), the inventor of General Tso's Chicken (左宗棠雞), was named an "Outstanding Citizen" by the Taipei City Government yesterday for creating the iconic chicken dish.
Peng apprenticed in the kitchen of the then-Republic of China government's premier before fleeing to Taiwan with the Chinese Nationalist Party (KMT) government.
The 95-year-old tottered as he received the award, expressing his thanks to the city in thickly accented Mandarin.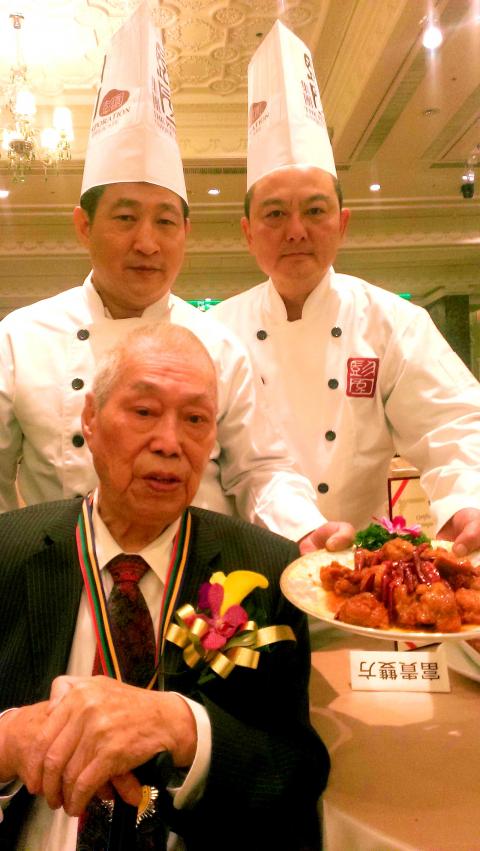 Peng Chang-kuei, inventor of General Tso's Chicken, front, poses with his dish after being named "Outstanding Citizen" by the Taipei City Government yesterday.
Photo: Chiu Shao-wen, Taipei Times
Peng said that he devised the dishv in the 1950s when he was asked to prepare a series of banquets for a visiting US admiral.
"No dish could be repeated during the three days that we were entertaining the admiral," Peng said.
The chef said that after already having served several traditional chicken dishes, he decided to mix things up to meet the no-repetition requirement. He did this by improving on a traditional recipe, cutting the chicken into larger chunks and adding a different combination of spices.
When the dish proved a hit, Peng named it after Tso Tsung-tang (左宗棠), a famous Qing Dynasty general from his native Hunan Province.
At the time, he had no idea that a dish invented to please a visiting admiral would become ubiquitous in Chinese restaurants in the US which it did after Peng opened a restaurant in New York City in 1972.
"At the time, American-Chinese food was dominated by dishes like chop suey, which were invented earlier by Cantonese immigrants seeking to make a living," Peng's son, Chuck Peng (彭鐵誠), said.
Peng Chang-kuei's restaurant was one of the first in the US to serve Hunanese-stye cuisine, with recipes tweaked to fit local tastes. Sugar was added to the recipe for General Tso's Chicken, rounding out the heavy sour, savory, salty flavors of the original dish.
Chuck Peng attributes the dish's success to the media spotlight shone on it by former US secretary of state Henry Kissinger, one of its earliest fans and a frequent guest at Peng's restaurant in New York.
Comments will be moderated. Keep comments relevant to the article. Remarks containing abusive and obscene language, personal attacks of any kind or promotion will be removed and the user banned. Final decision will be at the discretion of the Taipei Times.