Hippopotamus, Yu, born at Taipei Zoo
Taipei Zoo said yesterday that a hippopotamus calf was born in a pond at the zoo during pouring rain on Sunday night. The hippo calf, currently smaller than its mother's head, was named Yu (雨), which means rain, and also took its mother's name Najuzhong (娜竹忠), the zoo said on its Web site.
The zoo said its veterinary staff observed on Sunday afternoon that the mother had gone into labor and they monitored her until she gave birth at about 10pm.
Since then, Najuzhong Yu has been sticking close to its mother's side, but can already dive, the zoo said.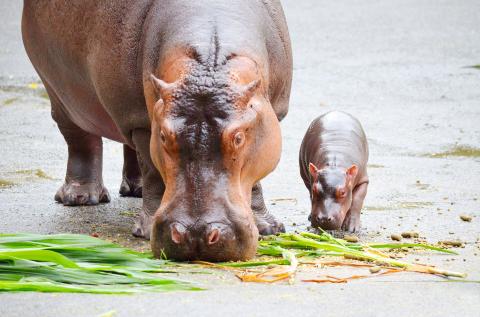 A newborn hippopotamus calf named Yu feeds beside its mother, Najuzhong, at the Taipei Zoo yesterday.
Photo: CNA
The calf's sex has not yet been determined, because the mother would not allow veterinary staff to come near her, the zoo said.
It said the mother and newborn are being kept in the Asian rain forest display area, because the enclosure for its African animals is under renovation.
The best time for visitors to see the baby hippo is when the mother rises from the pond to eat grass, the zoo said.
"If you're lucky, you might have a chance to see her breastfeeding," a zookeeper said.
Comments will be moderated. Keep comments relevant to the article. Remarks containing abusive and obscene language, personal attacks of any kind or promotion will be removed and the user banned. Final decision will be at the discretion of the Taipei Times.