Trade liberalization not fast enough: president
GOOD NEWS: US official Kurt Tong said he is pleased that Trade and Investment Framework Agreement talks have been revitalized, delivering concrete results
Taiwan is on the right track in its push for trade liberalization, President Ma Ying-jeou (馬英九) said yesterday, but he added that progress has not been fast enough, citing the stalled cross-strait service trade agreement as a cause of Taiwan remaining far behind South Korea, its main competitor.
The agreement has been stalled in the legislature pending ratification since it was signed in June last year, Ma said, while receiving Kurt Tong, principal deputy assistant secretary for the US Department of State's Bureau of Economic and Business Affairs.
Before he took office in May 2008, Ma said, South Korea had signed free-trade agreements with the US, the EU and ASEAN. That is why his administration has seen it as a top priority to seek free-trade agreements with more countries over the years, he said.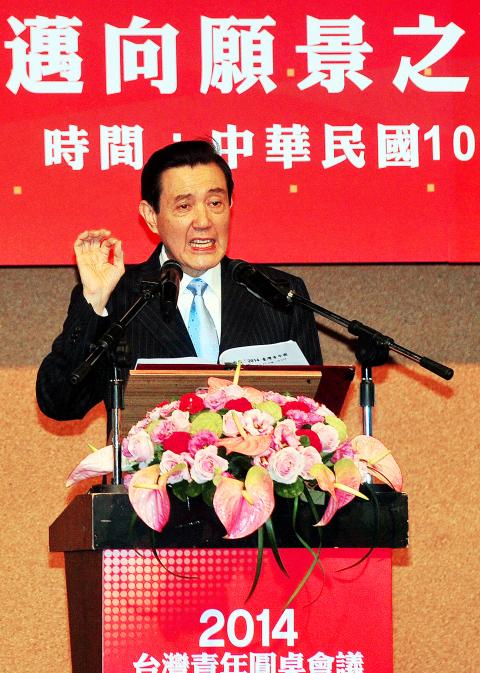 President Ma Ying-jeou gestures during a speech at the Taiwan Youth Round Table conference in Taipei yesterday, in which he spoke of the potential impact on Taiwan of a China-South Korea free-trade agreement.
Photo: Chien Jung-fong, Taipei Times
In the process, the US also offered some advice, which was one of the main reasons Taiwan chose to sign the Economic Cooperation Framework Agreement (ECFA) with China in 2010, Ma said.
Following the signing of the ECFA, Taiwan signed an investment protection pact with Japan, as well as economic cooperation agreements with Singapore and New Zealand, he said.
"We are on the right track, but we are not moving fast enough," Ma said, adding that it is not because his economic and foreign affairs officials have failed to make enough efforts.
The main reason is that the cross-strait service trade agreement, a follow-up pact to the ECFA, "has been stalled in the legislature for about 18 months without any progress," he said.
He said the opposition parties have continued to block any review of the service trade pact, and that this has made Taiwan lose its international competitiveness.
Opposition parties and some civic groups are against the agreement, concerned that it would hurt Taiwan's interests and allow for greater Chinese influence over the nation. However, the government insists that the agreement is needed to show the world the nation's determination to push for trade liberalization.
The stalling of the agreement is hurting Taiwan's international reputation and causing other countries to hesitate to sign free-trade agreements, Ma said.
Meanwhile, China plays a role in Taiwan's bids to join the proposed Trans-Pacific Partnership (TPP) and the Regional Comprehensive Economic Partnership trade blocs, he said, warning about what his administration sees as the negative effects following the "freezing" of the agreement signed with China.
Ma said that his government has heeded advice from the US and other countries, and has been working to further open its markets and loosen related regulations to better meet the conditions for joining the TPP.
He cited his administration's efforts to push for an act on the free economic pilot zones as an example of this.
Tong said that Taiwan is an important economy and it is important for it to improve its competitiveness and further open its markets.
The purpose of his visit is to learn more about Taiwan's efforts to open its markets and liberalize trade, he said.
Tong also said he is pleased to see the revitalization of trade talks under the Taiwan-US Trade and Investment Framework Agreement, saying that they have delivered concrete results.
The US official was set to wrap up his three-day visit later yesterday. He has met with several economic and foreign affairs officials to discuss bilateral trade and investment issues.
On Thursday, Tong gave a talk at a forum in which he urged Taiwan to work harder to attract more foreign investment to improve its competitiveness, and he reiterated that Washington welcomes Taiwan's interest in joining the TPP.
However, he stressed that if the country wants to join the TPP, it will have to make preparations to meet the high standards of the trade bloc.
Comments will be moderated. Keep comments relevant to the article. Remarks containing abusive and obscene language, personal attacks of any kind or promotion will be removed and the user banned. Final decision will be at the discretion of the Taipei Times.