2014 ELECTIONS: Ko outlines proposal for picking Taipei labor boss
Independent Taipei mayoral candidate Ko Wen-je (柯文哲) and his team yesterday released a list of members for a committee to pick commissioners for the city's Department of Labor if he wins the Nov. 29 elections.
Ko's team previously announced its selection committees and the rules for selection of the commissioners for the departments of environmental protection, education and social welfare.
The campaign team said that if Ko wins, a news conference would be held on Nov. 30, and any city resident could register with the committees to be a candidate for the labor commissioner before Dec. 5.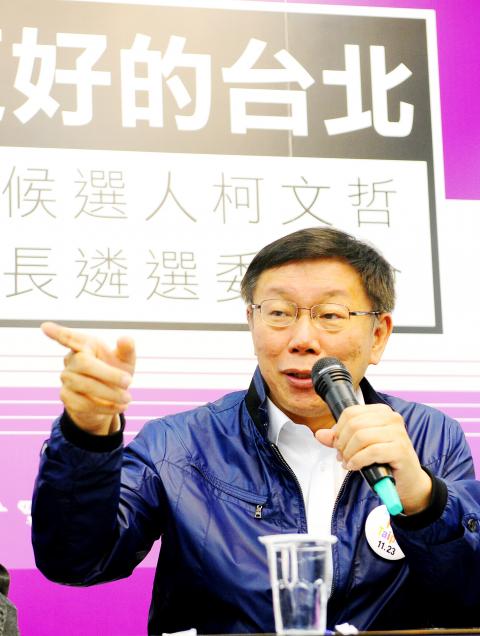 Independent Taipei mayoral candidate Ko Wen-je announces members of his prospective labor department commissioner selection committee and the rules for selecting the commissioner at a news conference in Taipei yesterday.
Photo: George Tsorng, Taipei Times
The selection committee would review and interview the candidates from Dec. 6 to Dec. 13 before choosing two; the public would then be asked to vote on the two via the Internet from Dec. 14 to Dec. 16.
The Internet voting process would be open to anyone who is aged over 18 and works in Taipei, regardless of whether their household registration is with the city, Ko said.
Selection of the labor commissioner would be different than the process to pick the head of the environmental protection department, which would be via Internet voting limited to Taipei residents, while the education department boss would be chosen by a selection committee and Ko.
Ko said that since the head of the labor department is responsible to those who work in Taipei, voter qualification should be based on workplace location rather than household registration.
The campaign team said that to determine Taipei workplaces for Internet voting purposes, a potential voter could register with their union, and then receive a text message with details of the voting Web site address and a mobile phone verification code.
The campaign team was open to hearing different opinions about their voting mechanism proposal, Ko said.
Comments will be moderated. Keep comments relevant to the article. Remarks containing abusive and obscene language, personal attacks of any kind or promotion will be removed and the user banned. Final decision will be at the discretion of the Taipei Times.