2014 ELECTIONS: Sean Lien says main rival Ko is DPP in all but name
The only difference between the Democratic Progressive Party (DPP) and independent Taipei mayoral candidate Ko Wen-je (柯文哲) is that Ko has not joined the party, Ko's Chinese Nationalist Party's (KMT) rival, Sean Lien (連勝文), said yesterday, adding that Ko and the DPP had made a secret deal.
Lien's comments came in response to a DPP complaint that the Chinese-language United Daily News ran misleading reports on Ko and DPP Chairperson Tsai Ing-wen (蔡英文) on Wednesday.
According to the newspaper, Tsai said during a televised interview on SET-TV on Tuesday night that while the DPP had agreed to help Ko in his mayoral bid by not nominating its own candidate, Ko would have to join the DPP "mayors' club" if he won and could not make any policy decision without its consent.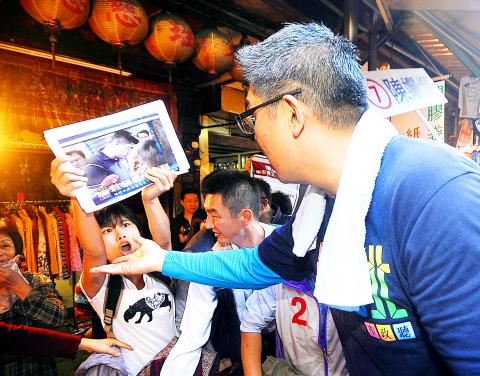 A Losheng Alliance member holds up a picture of Chinese Nationalist Party (KMT) Taipei mayoral candidate Sean Lien as Lien campaigns at the Zhonglun Market in Songshan District yesterday.
Photo: Fang Pin-chao, Taipei Times
Lien said Ko was in agreement with the DPP in almost every aspect, and that even after their secret deal had been revealed, neither side was willing to clarify the details of the pact.
This is an excellent chance for voters to see if Ko's actions match his words, Lien said as he canvassed for votes in Xinyi District's (信義) traditional market.
A support group for Lien has allegedly distributed campaign literature stating that certain politicians are pretending to be independent while they are actually sympathetic to pro-Taiwanese independence and pan-green ideals and were wasting political resources by trying to smear their rivals.
However, Lien came in for some criticism himself he campaigned at the market. An elderly woman who said she was a long-time KMT supporter followed Lien's entourage, asking how the Lien family had been able to amass its wealth while working as civil servants.
The woman told KMT Legislator Alex Fai (費鴻泰) that although she voted for Fai in 2012 and would have gladly voted for KMT Legislator Ting Shou-chung (丁守中) — who had sought the KMT nomination for Taipei — she would not vote for Lien.
Two members of the Losheng Alliance stopped Lien when he toured the Zhonglun Market in Songshan District (松山) and asked Lien to keep his promises and sign a petition to stop construction of a Taipei Rapid Transit Corp (TRTC) maintenance depot for the Luzhou-Sinjhuang MRT line being built near Losheng (Happy Life) Sanatorium.
Lien said the alliance had the same petition when he ran for the party's Central Standing Committee p in 2006, and that he was all for the protection of the disadvantaged.
Lien promised that if elected, he would ask the TRTC to step up negotiations with the sanatorium, adding that he believed there must be a method that would protect disadvantaged groups while promoting development.
Additional reporting by Chen Yen-ting
Comments will be moderated. Keep comments relevant to the article. Remarks containing abusive and obscene language, personal attacks of any kind or promotion will be removed and the user banned. Final decision will be at the discretion of the Taipei Times.