Home carers take grievances to labor ministry
Bearing multilingual signs, several dozen migrant workers and labor activists rallied outside the Ministry of Labor in Taipei yesterday, demanding the inclusion of foreign home care workers in the Labor Standards Act (勞動基準法) to better protect their vacation rights.
"Domestic work is work; labor standards cover all" the protesters shouted in Mandarin and Vietnamese.
Foreign home care workers, who mostly come from Southeast Asia, tend to work 14 to 18 hours a day to provide care for families with elderly or bedridden members, the protesters said, adding that they rarely get days off.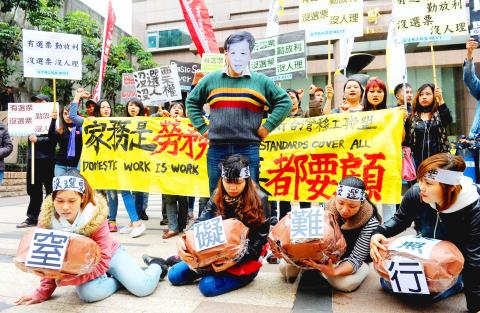 Foreign home care workers and supporters stage a protest outside the Ministry of Labor building in Taipei yesterday, demanding legal protections over working hours and holidays akin to those given to other workers.
Photo: CNA
Unlike other migrant workers employed in the industrial or maritime sectors, the 220,000 foreign home care workers in Taiwan are not covered by the act, which caps working time at 84 hours for every two weeks.
While labor officials have said it would be difficult to include home care workers in the act because their work hours are difficult to calculate, critics say this is an excuse for employers to deny migrant workers their vacation rights.
Betty Chen (陳容柔), a labor rights advocate for migrant workers and member of the Taiwan International Workers Association, said that since home care workers are always in the home, it should easy for their employers to determine the hours they have put in.
Chen cited a case involving a home care provider who recently sought help from the association's shelter for migrant workers.
The worker suffered a mental breakdown after having to provide care for both a centenarian and her employer — a terminally ill cancer patient — for eight months straight with no vacation, Chen said.
"Some carers work for three years straight without getting a day off," Chen said, adding that even though some employers might sympathize with their employee's heavy workload, they feel they cannot allow their elderly or ill relatives to go without a helper.
Three Vietnamese employees at a retirement home in New Taipei City, Le Minh Duc, Kieu Thi Chinj, and Nguyen Thi Thuong, said foreign care providers there work more than 12 hours a day and only get one day off a month, with NT$808 deducted from their monthly salary of NT$21,000 for the day they were not at work.
"Whenever we voice our complaints, our employer tells us to go back to Vietnam if we are unhappy about our working conditions," said Le, who has worked in Taiwan as a care provider for eight years.
Each carer at the home has to look after several seniors, harvest bamboo shoots, work in the vegetable garden and carry large barrels of urine to the fields, Kieu said.
Department of Labor Standards and Equal Employment Deputy Director-General Hsieh Chien-chien (謝倩蒨) said the ministry "faces difficulties" to provide legal protection for home care workers.
However, employees of retirement homes are considered industrial employees and are covered by the Labor Standards Act, so they can report their employers for violations of the law, Hsieh said.
In a bid to improve the working conditions of home care providers, the Executive Yuan is evaluating a draft domestic worker protection act (家事勞工保障法) that would guarantee a weekly day off, Hsieh said.
However, Chen questioned the ministry's efforts, saying that the act was proposed by labor groups more than six years ago.
Comments will be moderated. Keep comments relevant to the article. Remarks containing abusive and obscene language, personal attacks of any kind or promotion will be removed and the user banned. Final decision will be at the discretion of the Taipei Times.