Cloud Gate celebrates completion of its new home
With offerings of flowers, fruit, wine, tea, pork, incense, firecrackers and lion dancing, Cloud Gate Dance Theatre (雲門舞集) held a blessing ceremony to mark completion of the major construction on its new home in Tamsui District (淡水), New Taipei City, the Tamsui Culture and Art Education Center (淡水文化藝術教育中心)
Among those on hand for the ceremony and speeches were first lady Chow Mei-ching (周美青), New Taipei City Mayor Eric Chu (朱立倫), Cloud Gate Foundation directors, representatives of the company's new neighbors and some tired company members, whose flight home from a tour to China and Hong Kong was delayed in Hong Kong on Sunday night for several hours, not landing in Taipei until the early hours of yesterday.
It has been a long hard road for Cloud Gate since its patchwork studio, costume and props department and storage complex in Bali Township (八里) of what was then Taipei County went up in flames in a pre-dawn blaze on Feb. 11, 2008.
The Tamsui Culture and Art Education Center, Cloud Gate Dance Theatre's new home in Tamsui, New Taipei City, is pictured ahead of a blessing ceremony yesterday. Interior furnishings must still be installed, but the company will begin moving some of its departments into the building next month.
Photo: Courtesy of Cloud Gate Dance Theatre
"The whole process has been like a dream, totally fate," Cloud Gate artistic director and founder Lin Hwai-min (林懷民) said during yesterday's ceremony.
Chu said that he was pleased Cloud Gate has a new home because the company is a national and international asset, but is also "Taiwan's light."
The Taipei County Government was eager to keep the company, offering it the disused Danshuei Arts Education Center on the grounds of what had been a Central Radio Station facility wedged behind Huwei Fort, next to Taiwan Golf Club. However, the lack of legislation covering private investment in cultural enterprises and the legalities of handing over government property to a private institution delayed initial efforts to build the company a new home.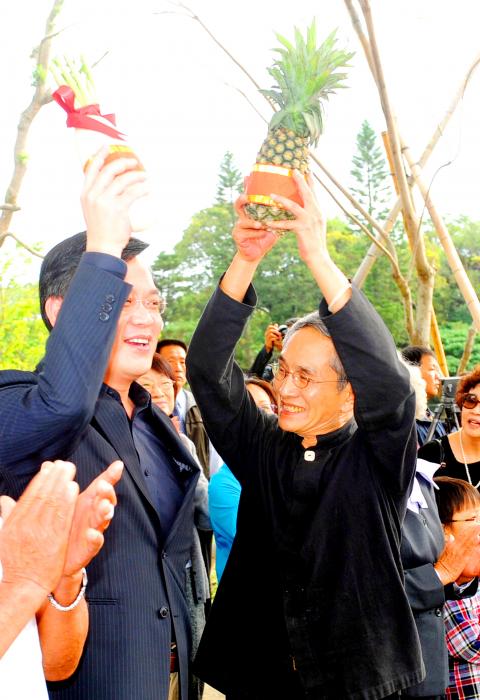 Cloud Gate Dance Theater founder Lin Hwai-min, right, yesterday holds up a pineapple during a blessing ceremony to mark the completion of construction of the company's new home in Tamsui District, New Taipei City.
Photo: Song Chih-hsiung, Taipei Times
The seven-story complex, designed by Huang Sheng-yuan (黃聲遠) of Fieldoffice Architects, has a 450-seat theater, a 150-seat theater, an outdoor stage area with seating for 2,000, two rehearsal studios and administrative offices.
Cloud Gate has been given 40-year operating rights to the site, which could be extended for 10 more years before the property reverts to the city.
Lin said a total of 4,115 individuals, companies and foundations gave money. The names of the major donors have been carved into a wooden wall that will be installed in the theater to remind the company of its supporters and the expectations society has of the troupe, he said.
The company is scheduled to begin moving into the complex next month, in stages, so all the departments are installed before the Lunar New Year. A grand opening is scheduled for April 24.
Given the closeness of the multi-windowed building to the golf course, questions about errant golf balls are to be expected.
"They fly over. But we are going to sue [if they hit]," Lin said.
Comments will be moderated. Keep comments relevant to the article. Remarks containing abusive and obscene language, personal attacks of any kind or promotion will be removed and the user banned. Final decision will be at the discretion of the Taipei Times.