Survey reveals physical, psychological health of girls
Girls in Taipei are more likely to face bullying and sexual harassment than in any other municipality, according to a survey published by the Garden of Hope Foundation yesterday, on the eve of today's International Day of the Girl Child.
The foundation called upon all sectors of society to work together to create "girl-friendly" cities.
The survey had an effective sample size of more than 1,000, the organization said, adding that the questions examined girls' rights in areas such as health, education, social participation, work, media and sexual autonomy, with the goal of understanding girls' expectations toward the cities they live in.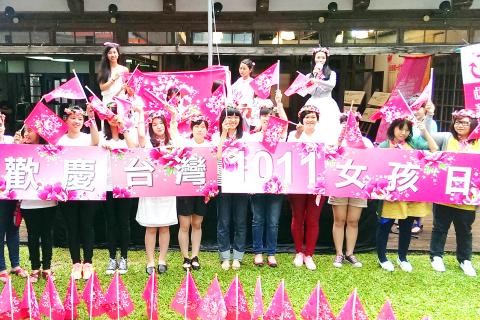 Supporters of the Garden of Hope Foundation in Taipei yesterday hold banners and flags to promote today's International Day of the Girl Child, as the foundation called for the promotion of girl-friendly cities.
Photo: CNA
In the survey's health section, Greater Kaohsiung ranked highest for exercise with 65 percent of respondents saying that they exercised at least four hours every two weeks, the survey showed, adding that Greater Tainan ranked lowest at 33 percent.
The health section also included questions on psychological well-being, finding that girls in Taoyuan and New Taipei City are the most stressed, according to the survey, which showed that more than 70 percent of girls in the two regions feel that they are under a lot of pressure, compared with 56 percent of girls in Taipei, which scored lowest on the measure.
The survey's education section asked girls whether they had ever been discriminated against at school because of their gender. Tainan ranked the highest at 50 percent, and all other cities and counties recorded more than 20 percent.
As for participation in society, only 30 percent of girls in Taipei felt encouraged by their parents to participate in social movements, compared with almost 50 percent in Taoyuan and Kaohsiung. More than 60 percent of girls in the five special municipalities and Taoyuan said that they should be able to vote at 18.
The surveys also suggested that more than 80 percent of Taipei girls agreed that "advertising tells me that thinness is the measure of beauty," compared with only 70 percent in New Taipei City and Taichung and less than 50 percent in Tainan.
More than 50 percent of girls in Taipei and Taoyuan said they can choose love freely, compared with only 30 percent in Tainan, the survey showed.
Comments will be moderated. Keep comments relevant to the article. Remarks containing abusive and obscene language, personal attacks of any kind or promotion will be removed and the user banned. Final decision will be at the discretion of the Taipei Times.