TAIWAN RESPONDS: 'Learn from HK,' activists tell KMT
'POOR TAIWAN': Student activist Yen Ming-wei retooled a famous quote, lamenting the nation being 'far away from God and so close to China'
Political activist Yen Ming-wei (顏銘緯) and academics yesterday lashed out at what they called the China-leaning statements President Ma Ying-jeou (馬英九) has made during recent interviews with foreign media outlets, while calling on Taiwanese to refrain from going down the same mistaken path as Hong Kong.
"Poor Taiwan, so far away from God and so close to China," Yen said at a news conference in Taipei organized by the Taiwan Association of University Professors.
He revised a quote often attributed to former Mexican president Porfirio Diaz: "Poor Mexico, so far way from God and so close to the US."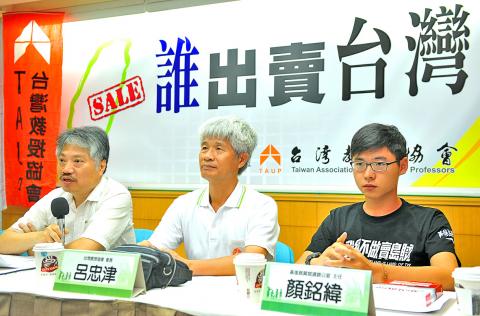 From left to right, Taiwan Association of University Professors deputy chairman Shiu Wen-tang and chairman Lu Chung-chin and Flanc Radical election campaign director Yen Ming-wei appear at a news conference in Taipei yesterday.
Photo: Chien Jung-fong, Taipei Times
"However we choose to interact with China, we should not forget that we should always insist on Taiwan's sovereignty," said Yen, a freshman at National Sun Yat-sen University and director of Greater Kaohsiung-based activist group Flanc Radical's electoral campaign in the municipality.
Turning to the incident on Friday last week in which he reportedly hurled a book at Ma as the latter was leaving a public event in Taipei, Yen said that he threw it not because he wanted to hurt the president, but because he is becoming increasingly anxious about the nation's future, as Ma seems to be "selling Taiwan out to China with all his China-leaning policies, remarks and actions."
"I wanted to remind him about Taiwan's status as a sovereign state, which is also the message that the book Formosa Betrayed conveys," Yen said of the book he threw.
National Cheng Kung University political science professor Leung Man-to (梁文韜) said that while the president continuously reiterates a position that the so-called "status quo" between Taiwan and China should be maintained, "his policies and actions show otherwise."
"We simply cannot trust the Ma government," he said.
A Hong Kong native, Leung said that Taiwan is now traveling on the same path as Hong Kong and might end up in the same political trouble as the territory faces today.
"We should learn a lesson from Hong Kong," Leung said.
Aletheia University professor Chen Li-fu (陳俐甫) shared Leung's view.
"I have known many friends from Hong Kong for more than 20 years and they are all opposed to Taiwanese independence," Chen said. "But after what happened yesterday [Sunday], they have probably realized why Taiwanese want to be independent."
Chen said that the "one country, two systems" framework proposed by former Chinese leader Deng Xiaoping (鄧小平) was originally designed for "unification" with Taiwan, but was first put into practice in Hong Kong.
"Obviously, that framework has now failed and we should seriously think about whether we [Taiwan] want to follow in Hong Kong's footsteps," he said.
Comments will be moderated. Keep comments relevant to the article. Remarks containing abusive and obscene language, personal attacks of any kind or promotion will be removed and the user banned. Final decision will be at the discretion of the Taipei Times.