Xinyi police accused of corruption
Taipei City Councilor Chung Hsiao-ping (鍾小平) of the Chinese Nationalist Party (KMT) accused the Xinyi District (信義) Police Precinct of having received bribes from nightclubs and other entertainment businesses within its jurisdiction, amounting to running a protection racket.
Chung said he got the inside information direct from a nightclub owner.
"There are three different groups in the Xinyi District Police Precinct who receive 'protection money,' and each establishment pays up to NT$100,000 each month," said Chung, alleging a top policeman surnamed Shih (石), former deputy chief at the precinct, demanded the highest price, about NT$100,000 to NT$150,000 from each club every month.
Wan Shao-cheng, front, wearing a white face mask, one of the main suspects in the recent slaying of a police officer in Taipei's Xinyi District, and several other suspects are brought to the Taipei District Prosecutors' Office for questioning yesterday.
Photo: Lo Pei-der, Taipei Times
Chung filed an official complaint with the Taipei City Police Department's Office of Ethics yesterday.
Chung said Hsueh was among the most corrupt members of the police force, alleging Hsueh played the role of a "white glove" intermediary, collecting bribes and distributing them among his precinct associates.
"I take legal responsibility on these charges. I am willing to give up my judicial immunity as a city councilor," Chung said.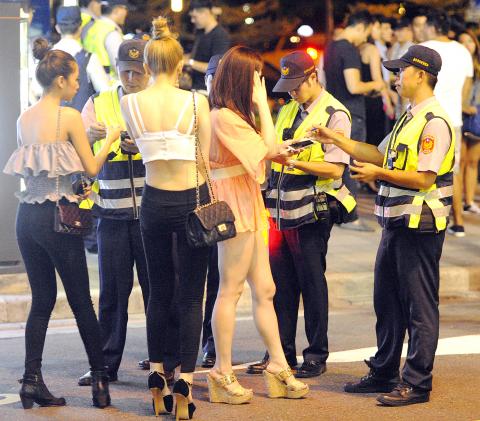 Taipei police officers check the identities of a group of young women outside a nightclub in Taipei's Xiniyi District early yesterday morning as part of a nationwide anti-crime drive.
Photo: Liao Chen-huei, Taipei Times
In related developments, three military personnel have been implicated in last Sunday's killing of an off-duty police officer outside the Spark ATT nightclub in Taipei's Xinyi District (信義).
Police detective Hsueh Chen-kuo (薛貞國) was beaten to death in a brawl involving about 50 people. Wan Shao-cheng (萬少丞), who allegedly played a key role in the case, turned himself in to the police on Friday following a manhunt.
A report in the Chinese-language United Evening News yesterday implicated three military police officers, Wang Pei-an (王培安), Tung Yu-tang (董玉堂) and Ma Yin-hung (馬寅紘), who are in the 202nd Military Police Command, under which is the Military Police 211st Barracks, responsible for patrol and security around the Presidential Office Building.
In response to the United Evening News report, Ministry of Defense spokesman Colonel David Lo (羅紹和) yesterday said that only Tung is a military police officer. The other two are army soldiers, he said.
Lo confirmed that Tung is in the 202nd Military Police Command, but said that "Tung's unit is for logistics support. He is not part of the 211st Barracks, and has no role in the security of the president or the vice president."
During questioning by investigators, Tung was quoted as saying that he saw the incident unfold, but did not take part in the fighting. Wang and Ma also were quoted as saying that they were just passing by, and were not involved in the case.
Investigators said they were looking into the trio's testimony.
Comments will be moderated. Keep comments relevant to the article. Remarks containing abusive and obscene language, personal attacks of any kind or promotion will be removed and the user banned. Final decision will be at the discretion of the Taipei Times.