Caribbean, Latin American festival to be held in Taipei
A weekend event in Taipei aims to highlight Latin American and Caribbean cultures as part of an effort to promote cultural exchanges between Taiwan and the regions, organizers said yesterday.
The Latin American and Caribbean Cultural Festival opens today at Huashan 1914 Creative Park in Taipei, with music and dance performances by artists from Paraguay, Belize, Argentina, Mexico and Peru, said the Ministry of Foreign Affairs, which is organizing the event.
At the nearby Spot Huashan Cinema, there are to be free showings of 12 films from Latin American and Caribbean nations, offering a glimpse into their diverse cultures, Deputy Foreign Minister Simon Ko (柯森耀) said.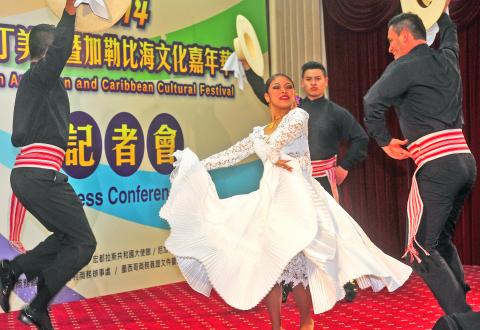 Dancers from Peru perform during a press conference held by the Ministry of Foreign Affairs in Taipei yesterday.
Photo: Chien Jung-fong, Taipei Times
As part of the festival, the 15 participating countries are to display specialty products, handicrafts, food and other aspects of their cultures at Huashan 1914 Creative Park, the ministry said.
Following the Taipei event, the groups are perform at Chung Shan Hall in Greater Taichung on Tuesday, the ministry said.
Further south, it said, free screenings of the 12 movies are to be held at the National Science and Technology Museum in Greater Kaohsiung next Saturday and Sunday.
Participants include the Dominican Republic, El Salvador, Nicaragua, Haiti, Honduras, Guatemala, Panama, St Kitts and Nevis, Brazil and Chile, the ministry said.
The festival is similar to the Asia-Pacific Culture Day that was held in Taipei earlier this month to promote cultural exchanges between Taiwan and nations in the Asia-Pacific region. The 19 participating countries included Nauru, Tuvalu, Solomon Islands, Japan, South Korea, Malaysia, Vietnam, India, Australia, New Zealand and the Philippines.
Comments will be moderated. Keep comments relevant to the article. Remarks containing abusive and obscene language, personal attacks of any kind or promotion will be removed and the user banned. Final decision will be at the discretion of the Taipei Times.