FEATURE: Industry must work to stay top of Chinese pop: critic
CENTER SHIFTING: Chao Chia-chu warned China's pop music industry has made significant advances, and says the government may be undermining Taiwanese music
Taiwan's popular music industry prides itself on wielding a strong influence in the Chinese-speaking world as a leading light in the cultural arena, but that could soon cease to be the case, because China has been catching up quickly, veteran Taiwanese music critic Chao Chia-chu (趙家駒) has warned.
"We should not close our eyes and shut our ears to the significant progress China has made in the popular music sector. Some people still perceive China as it was a decade ago, despite the advances it has made," the chairman of the Taiwan Music Culture International Alternation Association said in a recent interview.
However, Chao added that the nation is "facing the rising power of China's music industry, but Taiwan still has a good anchor in the sector because it is well-rooted in its homegrown culture."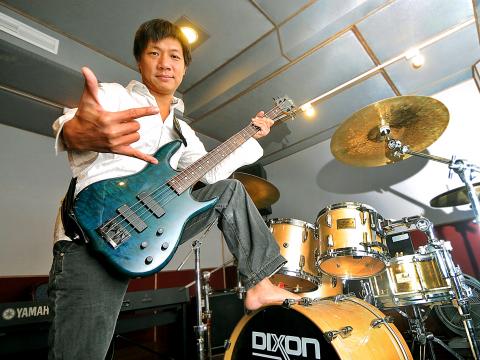 Taiwan Music Culture International Alternation Association chairman Chao Chia-chu holds a bass guitar during an interview on Aug. 13.
Photo: Fang Pin-chao, Taipei Times
"I agree with the point made by veteran music producer Eric Chen (陳子鴻) that Chinese-language popular music in China is like Western pop music in the US. Using this analogy, Taiwan can be like the UK and stay at the forefront of popular culture. We can make good music and become a research and development base for popular Chinese music," Chao said.
"That is how Taiwan can maintain its position in this sphere. Cultivating Taiwanese musicians' talents and innovative ideas is very important, but the government is doing quite the opposite — it is suppressing our homegrown creative talents," he added.
Citing a recent example, Chao said he has been invited for some years to judge a major music competition in China organized by the Guangzhou-based Southern Metropolis Daily.
"Musicians from Taiwan, Hong Kong, China and Macau are always represented in the competition. In the past, many Taiwanese musicians and bands were frequently nominated for awards, but this year, the number of Taiwanese entries was drastically lower," he said. "I heard one judge from Beijing proclaim proudly that the center of popular Chinese music is now Beijing."
"This serves as a warning that Taiwan's music industry must not be isolated from outside development, seeing as China is learning and catching up fast, with Taiwan as its major influence," Chao said.
The music critic said that many Taiwanese musicians have gone to work in China and that good competition is always welcome, because it benefits everyone and drives progress, "but in recent years, at Taiwan's Golden Melody Awards, judges have been struck by the impression that songs are becoming similar."
"The melody, lyrics and composition are sounding increasingly alike, and have nothing special about them," Chao said, adding that this begs the question: "What is going on in Taiwan's pop music industry? Why are the musical works it has produced over the past 10, 20 years so similar in style?"
Chao said that in recent times, China has made rapid advances in pop music, producing rock groups such as Second Hand Rose Band (二手玫瑰) and composer Chang Shilei (常石磊), who produced Hong Kong singer Sandy Lam's (林憶蓮) Gaia album, a fusion of classical music and contemporary pop that won Chang the Best Composer honor at the Golden Melody Awards.
"This advance has not been restricted to music; China's television programming has also made astonishing progress. We see a variety of talent search shows emerging from there. China not only buys the rights for shows from foreign countries, it also engages in technical exchanges to pick up expertise and know-how. This has greatly boosted its media industry," he said.
Chao said that in contrast to South Korea, where "the K-Pop industry is fully supported by the South Korean government and has actively sought assistance from big business conglomerates, in Taiwan, we see musicians stifled by a government that does not know what it is doing, while striving to control and regulate everything."
Chao cited as an example public tender bids related to the music industry held by the central and local governments.
"Once I saw a government tender for Aboriginal music production in which the amount of money allotted to buy the copyright to song lyrics was only NT$10,000. The market rate would be at least three times higher. If you can buy the rights to lyrics for NT$10,000, this downward spiral will likely ultimately drive that price down to NT$5,000," he said.
Chao said that even more preposterous were some government tenders' requirement that the sound mixer be a foreigner and that the album package be designed by either a foreigner or someone who has entered design competitions abroad.
"It is our government that is taking the lead in oppressing Taiwanese talent. The prices quoted in government tenders are often far below the market price, resulting in poor quality productions. It may seem like civil servants are saving the government money by doing this, but the practice has placed severe limitations on the music industry and inflicted much damage," the music critic said.
Government procurement and financial assistance are good for the music industry, but the budgets are too low and problems often arise from policy implementation and coordination between government agencies, Chao said.
"Government restructuring has placed the Department of Audiovisual and Music Industry under the Ministry of Culture. Under this organizational structure, the body responsible for popular music is a low-level one and its budget is much smaller than that afforded to the movie industry. Yet in reality, the market value of the nation's popular music industry far exceeds that of the movie industry," Chao said.
He recommended that when the Ministry of Culture devises policies to support original, creative music, it should coordinate with the Ministry of Education and other government agencies, so that original music composers and youth bands can perform at schools and campuses.
"Ministries could use their resources to give original music composers a chance to participate in the publicity efforts of events such as social charity and public service programs, as this would give artists a stage on which to perform. The public sector's resources can be integrated in better ways to support Taiwan's young musical talent more efficiently," he added.
"I would no longer say that Taiwan is the worldwide leader in popular Chinese music," Chao said. "Although China has not yet surpassed us in this industry, there are plenty of warning signs that this is imminent. The government must listen to people in the music industry to adjust the relevant policies and make changes that will benefit the sector."
The goal should be for Taiwan to build itself up as the research and development base for Chinese-language pop music, Chao said, adding that this cannot be achieved merely by constructing a few music performing centers.
"The government's policies should connect vertically and laterally in systematic ways to harness all the resources available across all government agencies to nurture Taiwan's musical talent," he said.
Comments will be moderated. Keep comments relevant to the article. Remarks containing abusive and obscene language, personal attacks of any kind or promotion will be removed and the user banned. Final decision will be at the discretion of the Taipei Times.