KAOHSIUNG INFERNO: Residents recount tales of terror, help from strangers
FIRST-HAND ACCOUNTS: A firefighter and two police officers recall being blown off their feet, while one woman got ice to staunch the bleeding of a man who lost a leg
Many residents in Greater Kaohsiung's Cianjhen (前鎮) and Lingya (苓雅) districts were startled awake by the explosions that began before midnight on Thursday and continued into the early hours of yesterday morning, many fleeing their homes thinking there had been an earthquake.
"It was terrifying to see the entire road explode," Chen You-ming (陳有明), the owner of a braised pork rice store near the affected areas, said yesterday.
Chen said his family went to a temporary shelter that the city opened at Kuanghua Junior High School, adding that along the way he saw many people with burned faces or arms or who were bleeding.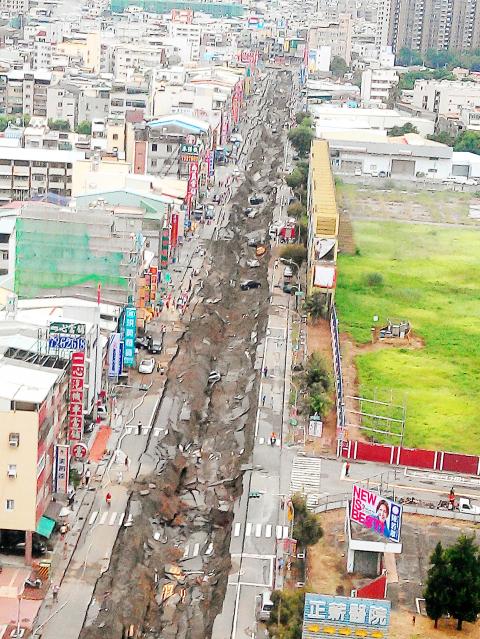 A handout photograph supplied by the Taiwan National Airborne Service Corps shows an aerial view yesterday of a caved-in road caused by underground explosions in Greater Kaohsiung.
Photo: EPA
One elderly man was standing in the middle of the road muttering about the end of the world, Chen said.
Among the many casualities from the blasts were members of Greater Kaohsiung's police and fire departments.
Police officer Chen You-ping (陳佑平) from Lingya Precinct was flung into the air and suffered second-degree burns after the road he was standing on exploded. He had been part of a taskforce sealing off the intersection of Kaisyuan and Yinghsian roads.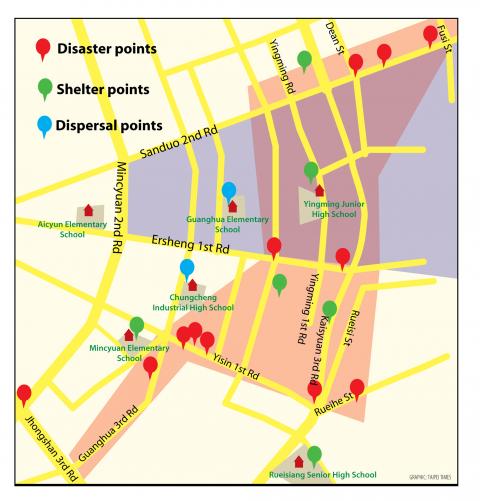 "The first thought to pass through my mind was that I am thankful I am still alive to see my wife and child," he said.
He heard some of his colleagues calling for help after he crawled out of a hole that he had fallen into, but he had to use his cellphone to call the precinct to request assistance because he lost his radio in the blast.
Firefighter Chen Chien-wu (陳建武) was part of a crew spraying water on the intersection of Ersheng and Kaisyuan roads in the hope of reducing the ground temperature.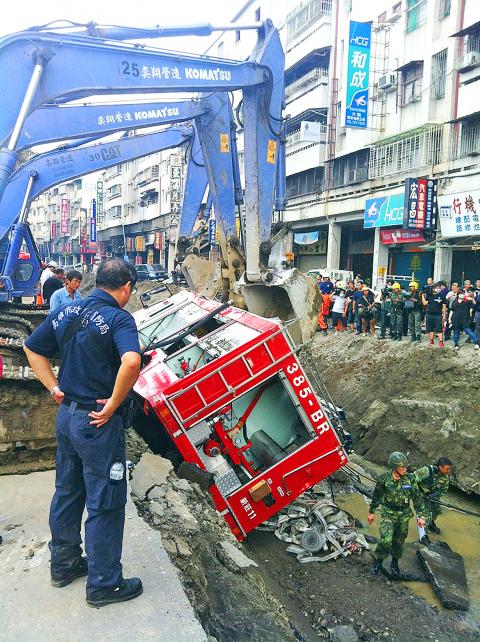 A police officer oversees the removal of a fire engine while soldiers search for signs of life below the truck in Greater Kaohsiung yesterday.
Photo: CNA
The road blew open underneath him and a fire truck, and he suffered burns on both hands and his face.
Police Sergeant Chang Min-huang (張明煌) said he was called in to maintain security around the intersection of Kaisyuan and Sienminng roads, along with colleague Lin Hui-wen (林惠雯) and an intern from the Taiwan Police College, Lee Chi-hsuan (李季軒), at 2am yesterday morning.
"The road cracked open and all of us fell down a hole," he said, adding that the hole was at least 2m deep.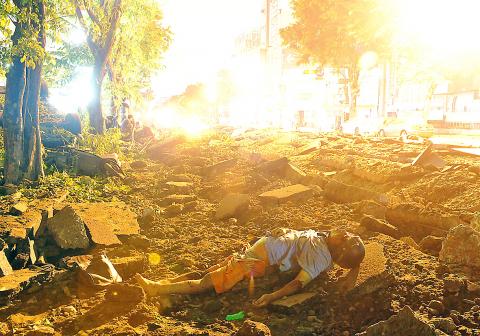 A person lies on the ground after an explosion in Kaohsiung early on Friday morning.
Photo: Reuters
"I was covered in blood by the time I crawled out of the hole," Chang said.
Some members of the public helped him free Lee, who was pinned to the ground by a rock that fell on one of her feet, he said.
Although he was not able to find Lin, he later was told that she had also escaped.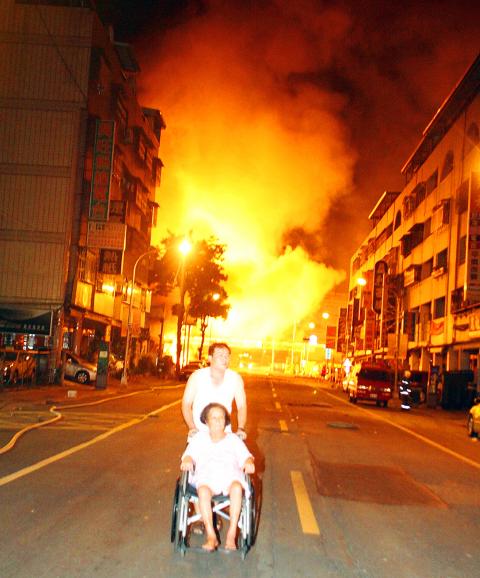 A man pushes a woman in a wheelchair as a fire burns in the background following a series of gas explosions in Greater Kaohsiung's Cianjhen District on Thursday night.
Photo: CNA
The experience was like a scene from an action film, he said.
Kaohsiung City Government Fire Department Secretary-General Lin Chi-tse (林基澤) had been listed as missing. He was inspecting a possible source of a gas leak on Thursday night before an explosion at the site. All that rescuers found afterward was Lin's hat, which had his name in it.
Former Jhudong Borough (竹東) warden Chen Chin-fa (陳進發) has been confirmed dead.
He was last seen alive delivering bottled water to firefighters in Cianjhen District before one of the explosions, and was among the first of the wounded to be sent to a hospital, the city government said.
Amid the horror of the disaster, many people were quick to offer aid to the injured.
Chen Wu Chin-yen (陳吳金燕), who lives on Kaisyuan 3rd Road, said she heard an explosion and had gone outside to see what was happening.
The first thing she noticed was the auto repair shop on the corner was ablaze, she said, adding that she then realized a young man about 30 years old coming toward her on a scooter was yelling that one of his legs had been severed.
Chen Wu said she called the police and grabbed some ice from her house to try and staunch the blood from the wound. She made runs to a nearby convenience store for more ice until an ambulance arrived to take the man to a hospital.
An elderly man surnamed Wang (王), who is paralyzed in his lower body, was carried out of his home by his son and given shelter in a nearby junior-high school. However, since being paralyzed by a stroke eight years ago, he could not sit up.
Wang said he was very uncomfortable at the school until a stranger got a mat from the school's health center for him to lie on.
There were also reports of able-bodied men forming volunteer groups to help police redirect traffic in the two affected districts, as well as people cheering police officers and firefighters on as they worked to rescue victims and clear the area yesterday.
Additional reporting by Ko You-hao
Comments will be moderated. Keep comments relevant to the article. Remarks containing abusive and obscene language, personal attacks of any kind or promotion will be removed and the user banned. Final decision will be at the discretion of the Taipei Times.