Globalization strategy needed: premier
Globalization is an unavoidable trend and Taiwan needs an appropriate strategy to deal with it, Premier Jiang Yi-huah (江宜樺) said at the opening of the National Conference on Economic and Trade Affairs in Taipei yesterday.
The nation should consult public opinion on ways to boost its economy amid globalization, Jiang said, adding that Taiwan cannot be left behind as many countries decrease import duties and further integrate their workforces to enhance competitiveness.
Jiang acknowledged concerns that globalization could lead to a widening of the rich-poor divide, affect the flow of capital and cause the nation's industrial base to be hollowed out, but said Taiwan should confront the issues and find solutions to them.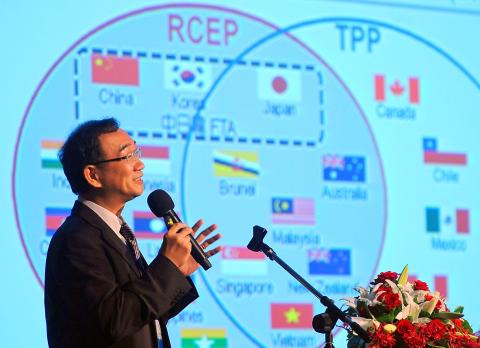 Chung-Hua Institution for Economic Research vice president Wang Jiann-chyuan addresses the National Conference on Economic and Trade Affairs in Taipei yesterday.
Photo: Wang Min-wei, Taipei Times
Former vice premier Lin Hsin-i (林信義) said that going global will not hurt the economy and that any policy that benefited the economy was worth implementing.
Lin added that the government needed to operate more effectively and that its tax system in particular had ample room for improvement. He argued that tax reform could attract overseas Taiwanese businesses to invest in the nation.
Meanwhile, in his keynote speech at the conference, former vice president Vincent Siew (蕭萬長) said that China's ascent is inevitable and Taiwan should try to take advantage of that rise as a stepping stone for development, rather than closing its doors and opposing anything involving Beijing.
The development of the world economy over the past 20 years has been affected by globalization and the onset of the knowledge economy, which have been far more responsible for Taiwan's sluggish economy than China's rise, Siew said.
Globalization and the knowledge economy are both linked to widening income inequality, Siew said, and to address those challenges, the nation needs to adjust its industrial structure and step up the opening of its economy to better connect it to global markets.
Siew said that to revitalize the economy in the short term, the government should boost spending on infrastructure, despite its tight budget.
He also advocated pushing forward a plan to establish free economic pilot zones.
Unlike the controversial service trade agreement agreement with China that calls for a full opening of the service industry, Siew said the economic zone plan aims to relax regulations for developing high-end services on a trial basis.
He appealed to the public to think about the plan in a rational manner and urged all sectors of society to pay more attention to economics rather than to politics, adding that political parties should respect professional opinions when formulating economic policies.
Comments will be moderated. Keep comments relevant to the article. Remarks containing abusive and obscene language, personal attacks of any kind or promotion will be removed and the user banned. Final decision will be at the discretion of the Taipei Times.