Yuan Zai enjoys her first birthday
Yuan Zai (圓仔), the Taipei Zoo's giant panda cub, celebrated her first birthday yesterday with a giant fruit cake and playing a traditional game for figuring out what she will do when she grows up.
Thousands of people braved the summer heat to help her celebrate her birthday.
About 3,000 people joined a 10km run which was part of a series of programs marking the event.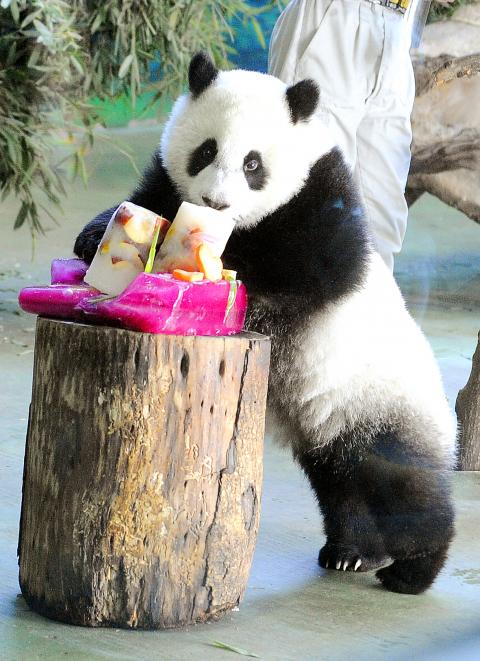 Giant panda cub Yuan Zai celebrates her first birthday with a special cake at the Taipei Zoo yesterday in Taipei.
Photo: Chen Chih-chu, Taipei Times
Yuan Zai, who weighed 0.18kg at birth, but now tips the scales at about 34kg, was taken to her "birthday party" in the morning, where zookeepers showed her several bamboo branches decorated with signs illustrating different professions — a unique take on a common practice called zhua zhou (抓周).
In a zhua zhou event, a one-year-old child chooses from different items symbolizing various professions — like a ruler for an architect or a calligraphy brush for an author — so that their parents can get an idea of what their children are interested in.
Yuan Zai's picks showed a broad range of interests for the cub: painter, engineer, flight attendant and teacher.
Visitors, many of them children with parents, cheered Yuan Zai when she was presented with a birthday cake — made of apples, pineapples, carrots and buns — prepared by the zookeepers.
Yuan Zai was born after four years of artificial insemination attempts using sperm and eggs from the two giant pandas at the zoo, Tuan Tuan (團團) and Yuan Yuan (圓圓).
Additional reporting by AFP
Comments will be moderated. Keep comments relevant to the article. Remarks containing abusive and obscene language, personal attacks of any kind or promotion will be removed and the user banned. Final decision will be at the discretion of the Taipei Times.