Ma meets with Varela in Panama
President Ma Ying-jeou (馬英九) met with Panamanian Vice President and president-elect Juan Carlos Varela shortly after he arrived in Panama City on Monday.
Ma recounted how he met Varela five years ago, saying he was glad to see such an "exceptional" politician become president.
He said he hoped that bilateral cooperation and exchanges can be expanded based on the nations' long-term rapport, adding that Panama has made great progress over the past five years, including achieving an annual average economic growth of 8 percent.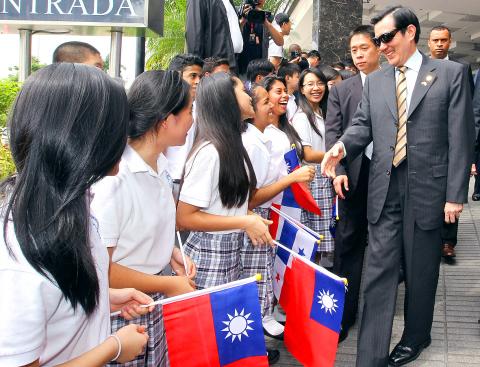 Students from the Chinese-Panamanian Cultural Center welcome President Ma Ying-jeou, front right, as he arrives in Panama on Monday for Panamanian president-elect Juan Carlos Varela's inauguration.
Photo: CNA
Ma also encouraged Varela to visit Taiwan to learn more about the country.
Varela praised the Ma administration's achievements in relations with China, saying that reciprocal visits of the top officials in charge of cross-strait affairs will benefit the people of both sides.
He reaffirmed that exchanges between the Republic of China (ROC) and Panama will continue to be smooth and friendly.
Earlier in the day, Ma met Panamanian President Ricardo Martinelli to discuss a wide range of topics, including the FIFA World Cup, weight loss and energy issues.
This is Ma's fourth trip to Panama — his second as president — and he said he felt a sense of familiarity stepping on Panamanian soil again.
He hosted a luncheon for Taiwanese expatriates in the country shortly after he arrived at his hotel on Monday.
Ma told the gathering that Taiwan has become increasingly open to the world due to improvement in cross-strait relations and the two sides of the Strait have signed 21 agreements since 2008.
He also mentioned the landmark visits to China by Mainland Affairs Council Minister Wang Yu-chi (王郁琦) in February and China's Taiwan Affairs Office Minister Zhang Zhijun (張志軍) to Taiwan last week.
Meanwhile, Taiwanese media raised questions about the lack of a military honor guard welcoming ceremony for Ma in Panama City.
Ambassador to Panama Diego Chou (周麟) said Ma has received a high level of courtesy on this visit.
Ma was given a red-carpet welcome and was greeted on arrival by Panamanian Foreign Minister Francisco Alvarez De Soto, treatment not accorded to most other foreign heads of state now visiting the country, Chou said.
Because Taiwan's delegation was the largest — and the only one to arrive in Panama by chartered flight — the Panamanian government made special arrangements for Ma's plane to land at Howard/Panama Pacifico International Airport, which is more spacious than Tocumen International Airport, Chou said.
This allowed for a special stand to be built at the former US air base for the media, he added.
Comments will be moderated. Keep comments relevant to the article. Remarks containing abusive and obscene language, personal attacks of any kind or promotion will be removed and the user banned. Final decision will be at the discretion of the Taipei Times.